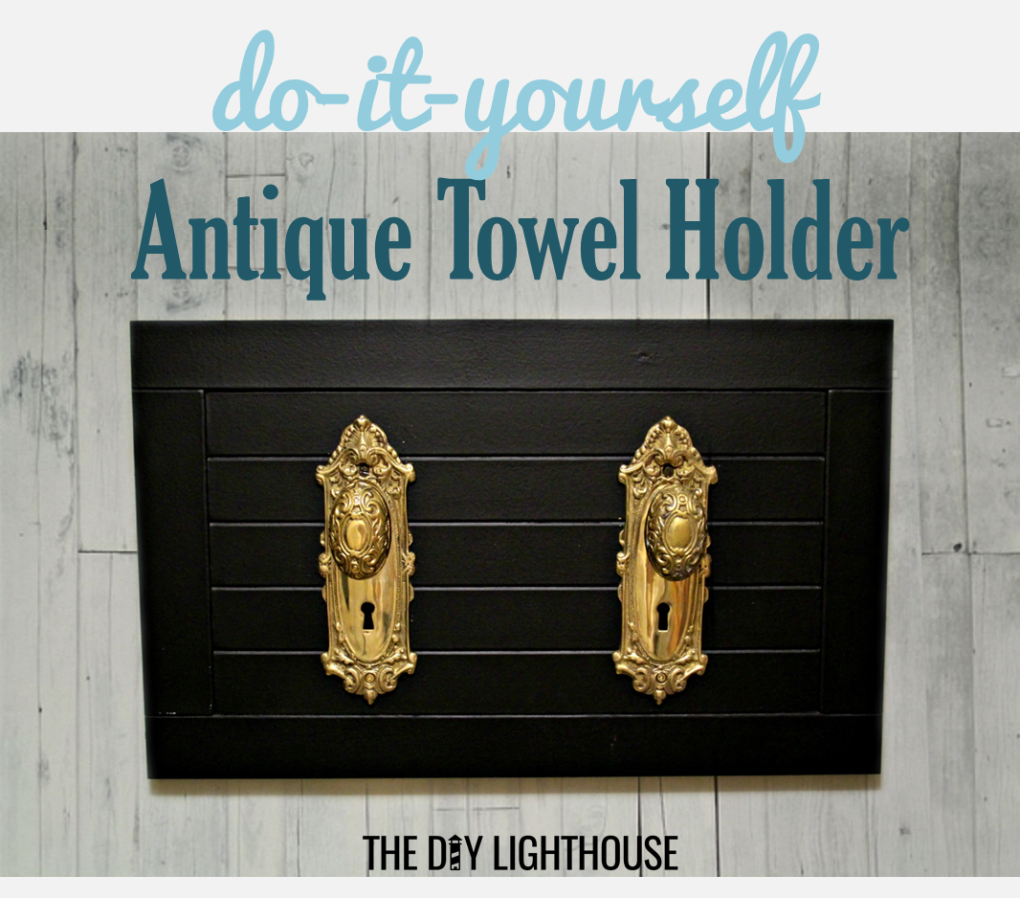 When my husband and I got some fancy pantsy, white robes for our anniversary, we didn't have anywhere fancy pantsy to put them. . . . Hence this gorgeous DIY antique towel holder. Super easy. Super quick. And my favorite part of this project is that it only cost $7.47 to make! I know, right? A low maintenance DIY project like this is something anyone can afford to make.
The Free Wood
As typical with most of my projects, this DIY antique towel holder has a story to its creation process. Story background: I knew I needed to find a piece of wood for the door knobs to attach to, and quite frankly, I didn't want to spend a dime on wood I'd end up painting. Sooo…my husband and I are driving in downtown Minneapolis to take my visiting sister, Ashley, to the airport. There are so many one way streets up there, it's frightening. There we are…driving…driving. All the sudden, I see a wooden desk on the side of the road with a "I'm FREE" sign taped to it. It might as well have been a massive slice of cheesecake, I was so excited. I yell, "STOP! Pull over!" Slamming of brakes and confusion ensued, but we had already passed it. Luckily, my husband loves me and knows not to ask questions about my weird DIY habits. Six blocks of scary one-way streets later, I was on the side of the road unscrewing the desk drawer from its hinges. Not only did I get my free piece of wood, but we were still on time to the airport, and I managed to obtain a nice drawer knob during all the hullabaloo. The end.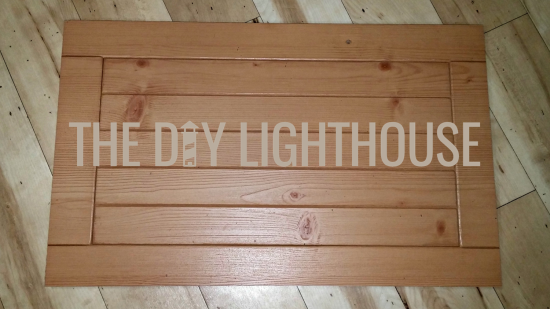 Another (much shorter) story: I tried to see if toothpaste, once dried, acted the same as wood putty. It does not. So, just buy a $3.47 bit of wood putty and save your toothpaste for its intended purpose: polishing diamond rings, filling nail holes, and brushing teeth (in that order).
After using wood putty to fill in the door knob hole, I did a couple quick coats of black paint. Black just matched my bathroom, but feel free to use whatever color works best for yours! Luckily, I found the black paint for free. (Read our "DIY Hack: Get Paint for Free" post here.) The wood puttying and painting process took very little hands-on time: about 15 minutes total. The drying time spanned the course of two days.
The Antique Door Knobs
I found these ornate, brass, antique door knobs for sale online for $4. Look around second-hand local hardware shops in your area, search online, or take a peek in your grandma's attic to find the perfect door knobs that match your style. I chose the antique look, but really any door knob design will do the trick.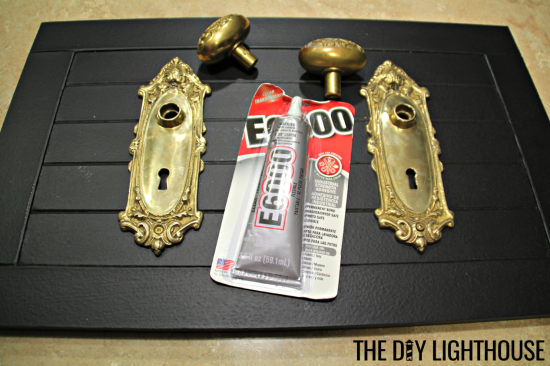 Once each side of the door knob set is detached from one another, decide how to place the door knob plates on the wood. Quick tip: be sure to use a measuring tape to position the door knob plates evenly, and pencil where you want the screws to go. Having a visual guide of exactly where you want the screw will help in case the door knob plates get bumped before the screw is in place. Also, be sure that the screw is shorter than the width of the board or else they will poke out the other side.
After the door knob plates are screwed in, super glue the knobs on. For drying times, follow the directions that come with the super glue. It's better to be patient and wait for the glue to cure than to end up with a super gluey mess. It's tough, but resist the urge to prematurely hang.
The Finished Product
All that's left is to add something to the back of your DIY antique towel holder that will mount it to the wall. I used a simple sawtooth hanger and put two nails into the wall so when I only had weight on one side of the towel holder, it still remained level. Because I am hanging robes, I put my DIY antique towel holder high enough up the wall so the robes don't hit the floor. Consider whether you plan to hang robes or towels, and adjust the height of your towel holder appropriately.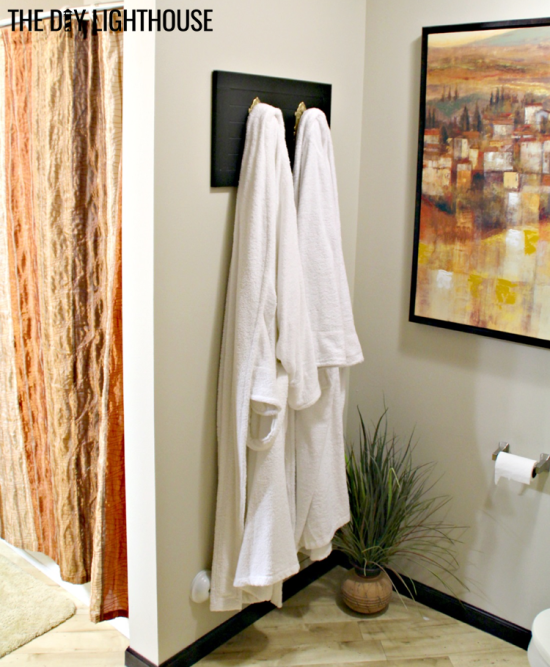 Let us know how your DIY antique towel holder turns out by commenting below! And feel free to share any of your DIY hero stories. We all love a good bedtime story!