When I found out Amber was pregnant, I was so, so ecstatic. Being a mommy is such an important, beautiful thing, and I was excited that Amber could experience as much joy with her little peanut as I have with Zoey. So pretty much, as soon as Amber told me she was having a baby, I began planning her baby shower.
Okay, think waaay back.  Now, raise your hand if you ever read "The Very Hungry Caterpillar" by Eric Carle. If you didn't notice, both my hands are in the air. It's a childhood favorite. And it was the perfect inspiration for Amber's baby shower theme.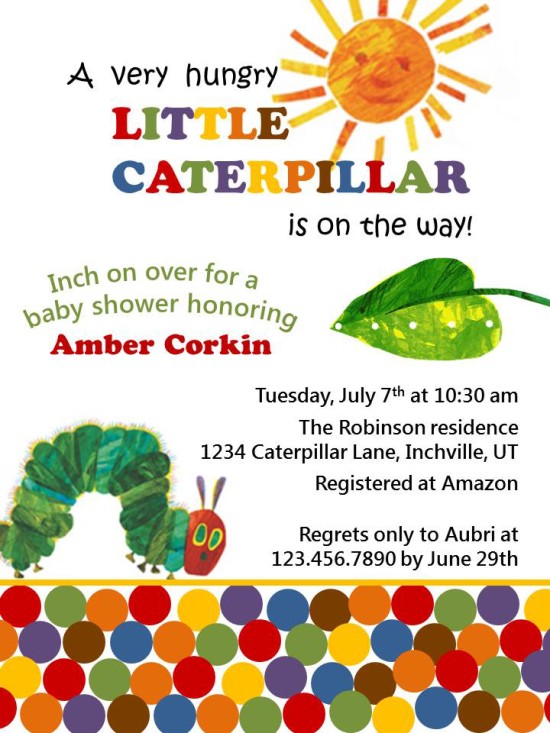 When it comes to invitations for an event, I definitely think that something tangible is best. But when you are strapped for time and money, an electronic invitation is an excellent alternative. While there are free electronic invitation websites that help with the process, I always like to take the hands-on approach and make my own. This allows much more personalizing and creativity.
Making your own invitation is actually easier than it sounds. I recommend many Adobe and Microsoft Office programs for the job, but my personal favorite is, actually, PowerPoint. PowerPoint is great for creating and manipulating text, images, and a great design (please don't hesitate to contact us here with any PowerPoint questions). It only took me about 30 mins to create a way cute and totally free invitation for Amber's baby shower to send out via email and Facebook. With patience and the initiative to master a small learning curve, you will be cropping, creating, and colorizing your own invitation!