Cheese and charcuterie boards are a host's best-kept party secret! Why? They require little preparation time, offer a large variety of textures and flavors, and are visual eye candy. And though they are often made with adults in mind, they're perfect for kids too! After all, kids love cheese, deli meats, crackers, fruit, and dips–all the components of a delicious and memorable cheese and charcuterie board for kids!
(This page contains affiliate links that we may be compensated for. Your clicks and purchases help support The DIY Lighthouse at no extra charge to you. We only put links to products we love and would recommend anyway.)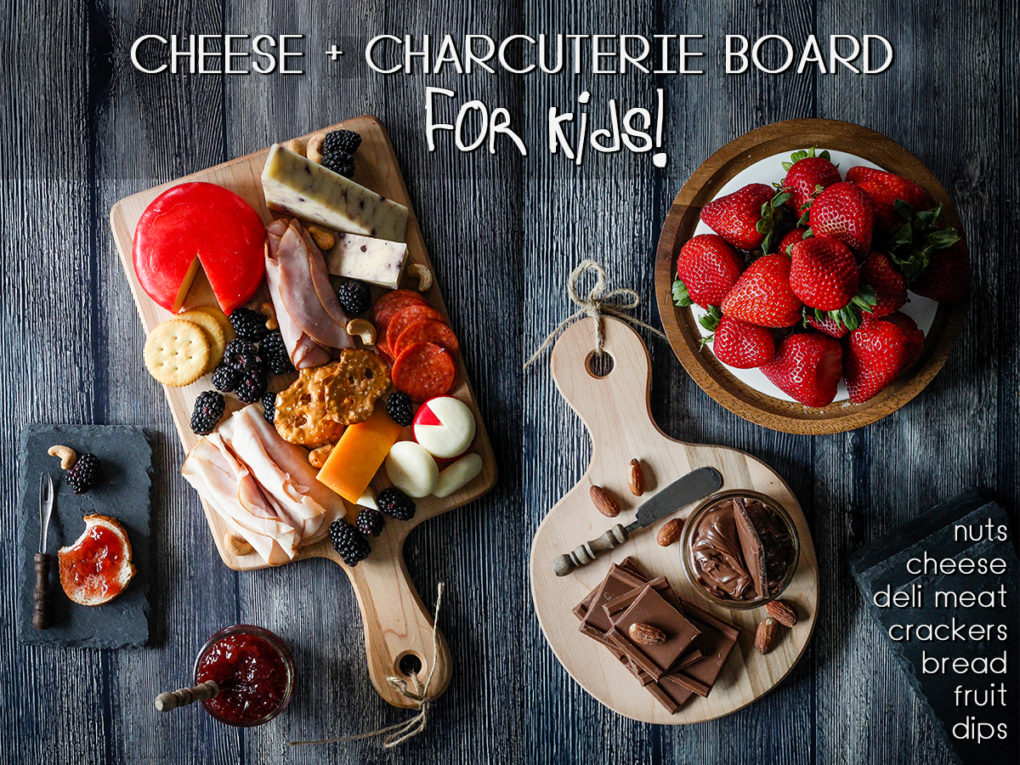 Making Your Cheese and Charcuterie Board for Kids
Here are the components to creating a fun and delicious cheese and charcuterie board for kids:
Bread & Crackers
Grab a variety of shapes, flavors, textures, and sizes to give your board some variety. Cut bread into thin slices for small mouths. I used pretzels crackers, French baguette, sourdough baguette, buttery crackers, and pretzel sticks.
Cheese
While adults would find pungent flavors more interesting, children most likely will prefer more mild cheeses. You can still play with textures and flavors, but keep it simple. I used gouda, orange cheddar, blueberry cobbler cheddar, and sharp cheddar singles.
Charcuterie (Meat)
Have fun with different textures, shapes, and flavors of your kid's favorite cold cuts of meat. Some meats are sweeter, others saltier, and even some are on the spicy side. I used traditional pepperoni, deli ham, and deli turkey.
Nuts, Fruit & Dips
This is where your cheese and charcuterie board for kids goes from good to memorable! Explore all kinds of sauces, dips, spreads, fruits, and nuts. If you're adding savory, salty, and sweet, then you are on the right track! I used foods I knew my kid loves: cashews, almonds, hazelnut chocolate spread, strawberry jam, and fresh strawberries.
Boards & Knives
There are several different types of board that you can get to present your cheese and charcuterie board for kids. Here are some fun, practical, and fancy board types:
Cheese knives are not only designed to specifically cut cheese, they are aesthetically "on point." Here are two different cheese knife sets to consider:
Hope this cheese and charcuterie board for kids was the inspiration you needed to create your own impressive composition! Comment below to let me know what you included in yours!
Pin It!
Cheese and Charcuterie Board for Kids!

Other posts you might like: