You're throwing a party, have a large group you have to feed, and need some easy, cheap dessert ideas because you don't want to break the bank. Sound familiar? No worries! We know 11 cheap dessert ideas that are delicious, easy to make, and budget friendly.
Pro Tip: Before you get started, make sure you're buying utensils, plates, napkins, and other plasticware and paperware in bulk. Follow the links for cheap examples.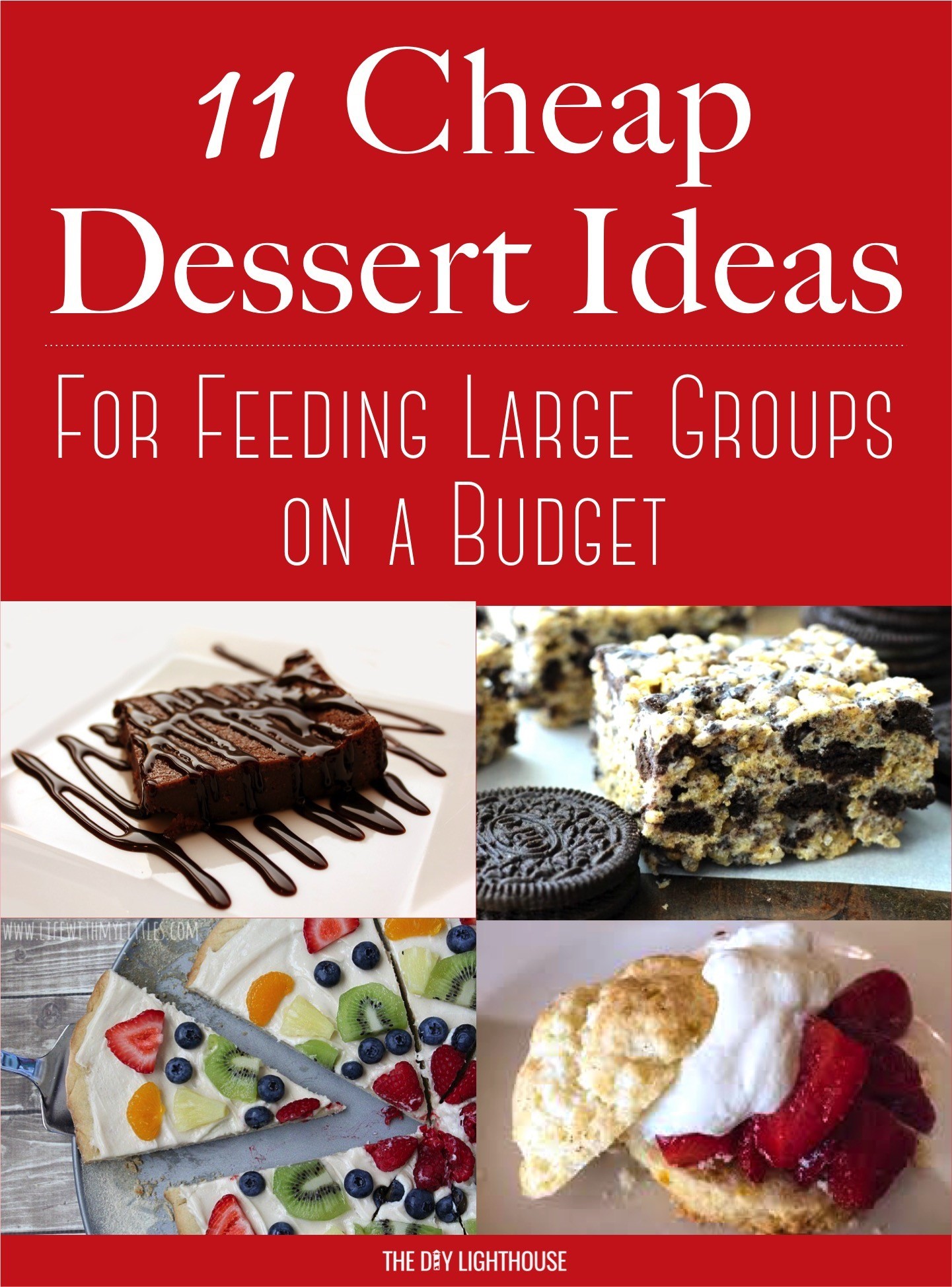 (This page contains affiliate links that we may be compensated for. Your clicks and purchases help support The DIY Lighthouse at no extra charge to you. We only put links to products we love and would recommend anyway.)
11 Cheap Dessert Ideas
Cheap Dessert Ideas #1:
Banana Split Bar
This cheap dessert idea is a really budget-friendly option because you just add toppings as your budget allows. For example, if you can only afford bare basics, go with bananas, vanilla ice cream, and chocolate syrup, but if you have a little more wiggle room then buy sprinkles, peanut, whipped cream, and more syrup options. I made a banana split bar for a baby shower I threw so feel free to check out what I did by clicking here.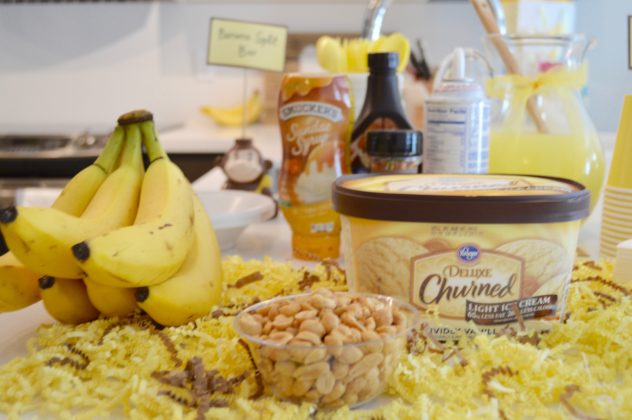 Cheap Dessert Ideas #2:
No Bake Strawberry Ice Box Cake
Because this cheap dessert idea only uses a few ingredients, it's definitely budget friendly! Cakes Cottage tells us her go-to recipe for this No Bake Strawberry Ice Box Cake that is a crowd-pleaser.
Cheap Dessert Ideas #3:
Rice Krispie Treats
Rice Krispie Treats is one of the easiest desserts around. Stick with the classic and simple, or get creative and make a few different options your guests might like. My Recipe Confessions shares a fun recipe for Cookies & Cream Rice Krispie Treats. Whichever way you go, this will be a nice option if you're on a tight budget.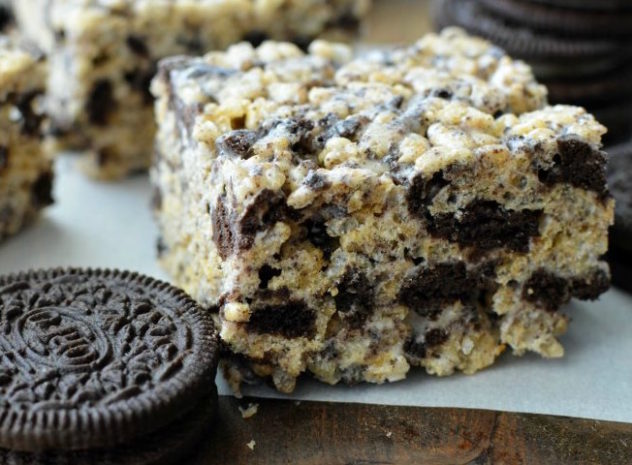 Cheap Dessert Ideas #4:
Moist Banana Muffins
Perfect cheap dessert idea if you don't want something too sugary. Also a great option if you don't want to have to worry about plates and utensils because these make a great finger food dessert. These sweet and savory banana muffins are super duper easy to make, you can bake them well in advance, and they are definitely cheap. Check out the recipe by reading our post Moist Banana Muffins: The Best Recipe Around. To take these muffins up a notch on the dessert scale, serve with vanilla ice cream.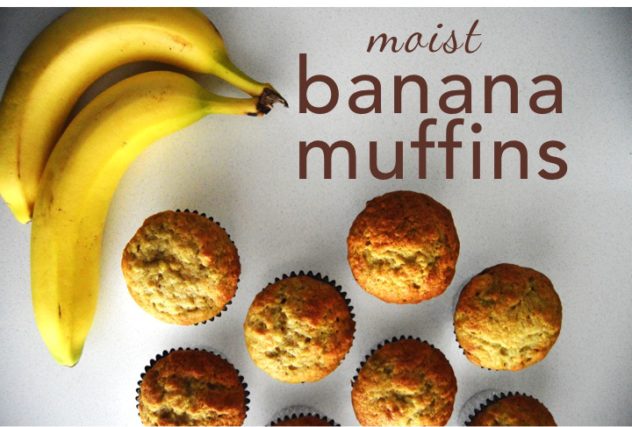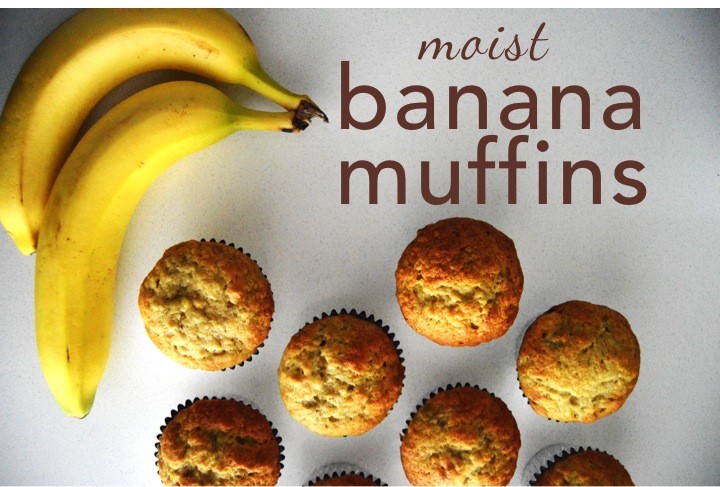 Cheap Dessert Ideas #5:
Brownies & Ice Cream
Need cheap and easy? Whip up a couple boxes of brownie mix, buy a big tub of vanilla ice cream and you're good to go. Depending on how you serve them they can be casual or classy.
Cheap Dessert Ideas #6:
Fruit Pizza
Fun and versatile, fruit pizza is a great cheap dessert idea for feeding large groups. Our friend Chelsea,from Life With My Littles, shares her family's special recipe for this colorful dessert. (Check out her Fruit Pizza post for the recipe!) Soft sugar cookie, cream cheese frosting, and fresh fruit. Chelsea says this this is a great dessert to bring to a party because everyone will love it and you can pick fruit that will match what you're celebrating, like fruit colors that match a sports team or holiday! (And click here to find dessert party plates that match your party colors.)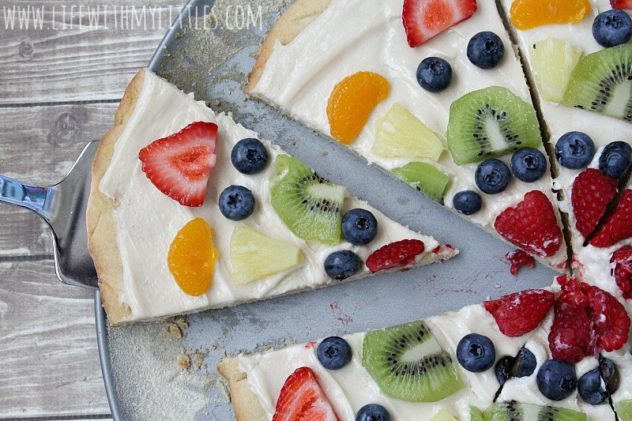 Cheap Dessert Ideas #7:
Better Than Sex Cake
I should totally do a post on it, because my Better Than Sex Cake is one of my go-to cheap dessert ideas for parties and events. It's super easy, looks like it took you forever, and everyone gushes over how tasty it is.
A quick recipe… 1) Bake a Devil's Food cake box mix according to package directions and then poke a bunch of holes in the top of the cake using a wooden spoon. 2) Over low heat, warm up a can of sweetened and condensed milk along with half a jar of caramel ice cream topping. Pour this over the cake. 3) Chop up a Toffee Symphony Bar and sprinkle 3/4 of the bar over the cake. 4) Spread a tub of Cool Whip over the top, drizzle the rest of the caramel ice cream topping over that, and finally sprinkle the rest of the Symphony Bar. Refrigerate this delicious guy until you're ready to serve it. Makes one 9 x 13 cake for a sinfully tasty cheap dessert.
Cheap Dessert Ideas #8:
Dessert Dip
Here's a cheap dessert idea that's casual and fun for much and mingle parties… dessert dip. You can go many different ways with this idea. Budget Savvy Diva shares a recipe for Cake Batter Animal Cracker Dip and The Girl Who Ate Everything gives us her Monster Cookie Dough Dip recipe.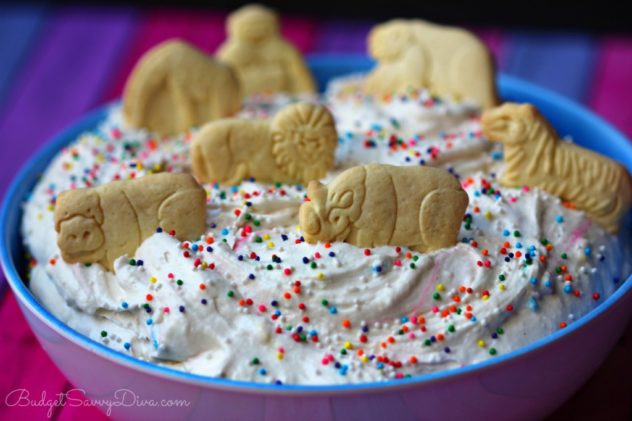 Cheap Dessert Ideas #9:
Strawberry Shortcake
If you're looking for a quick dessert that anyone (and I mean ANYone) can make, serve strawberry shortcake. It's all store bought and you just do a little prep, but the dessert can look and taste fancy. It is also easy to prep this beforehand so it's a great dessert option if you can't be baking right before your party. Simply buy pound cake or shortcake from the store, whipped cream (or you can buy whipping cream and whip it yourself–don't forget to add sugar–to save some money), and some strawberries or other berries. If you stick with small portions, this dessert can be fairly inexpensive and super easy. (These small dessert plates will keep things fancy looking and portion sizes small.)
Cheap Dessert Ideas #10:
White Chocolate Caramel Popcorn Balls
Chelsea from Life With My Littles has a perfect solution for making a delicious party food that is fun and non-traditional. Grab some Wilton rainbow sprinkles and check out her post fun White Chocolate Sprinkle Caramel Popcorn for her easy-to-follow recipe.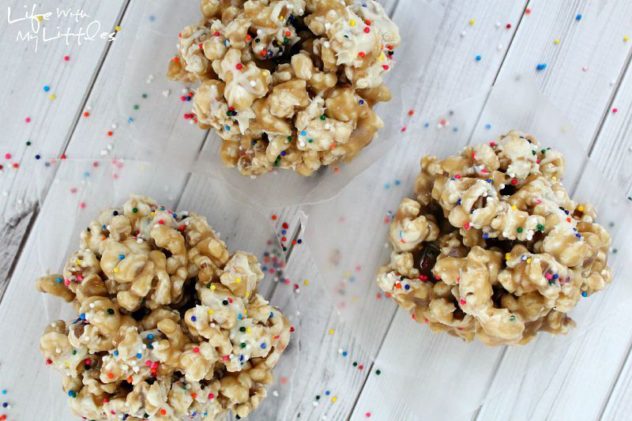 Cheap Dessert Ideas #11:
Cookies & Ice Cream
Classic and for a good reason, cookies and ice cream are both crowd favorites. If you want to put a fun twist on this idea, have your guests make homemade ice cream sandwiches. You can let them customize their ice cream sandwiches by having a few different kinds of cookies and a few different kinds of ice creams and letting them mix and match to make whichever sandwich combination they prefer. Click here for some cheap and nice-looking ice cream scoops to take your dessert table up a notch.
If you've liked this list, check out our post 11 Cheap Meal Ideas for Feeding Large Groups and our tips for How to Feed a Large Group on a Budget.