If you want to save some money this year, we've got you covered. . . . Below are 6 cheap breakfast ideas for breakfast on a budget. Not only are these breakfasts cheap (you can make for less than $1!), but they are also quick and easy. I could whip up any of these in under 10 minutes. (And most of them can be made in less than 3 minutes.) Check out our list and see which ones you want to add to your morning routine.
But before we get started, if you have a breakfast to plan for a lot of people, definitely check out our post How to Feed a Large Group on a Budget by clicking here. That post will give you tips on ways to cut costs when feeding the masses.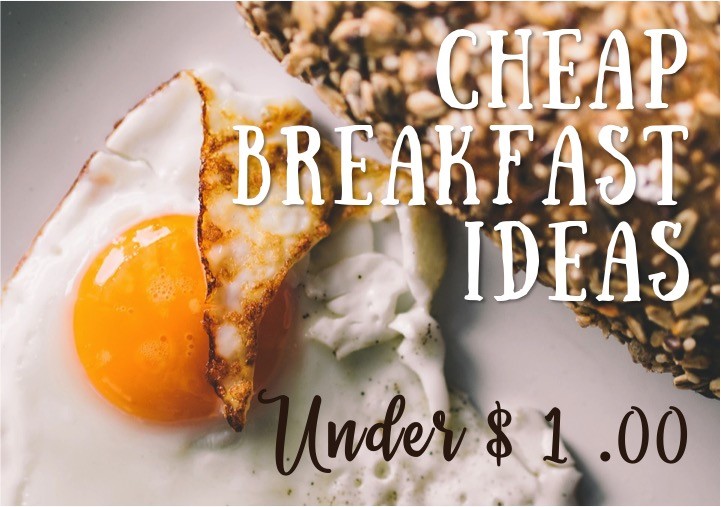 (This page contains affiliate links that we may be compensated for. Your clicks and purchases help support The DIY Lighthouse at no extra charge to you. We only put links to products we love and would recommend anyway.)
Cheap Breakfast Ideas for Under $1
Now without further ado, below are our 6 cheap breakfast ideas under a dollar for breakfast on a budget! Each breakfast includes a price breakdown so you know it really is less than a dollar. (Food prices are based off of my Seattle city local grocery store, so prices are likely to be even cheaper in more suburban areas.)
Cheap Breakfast #1:

Banana Chocolate Chip Pancakes = $0.92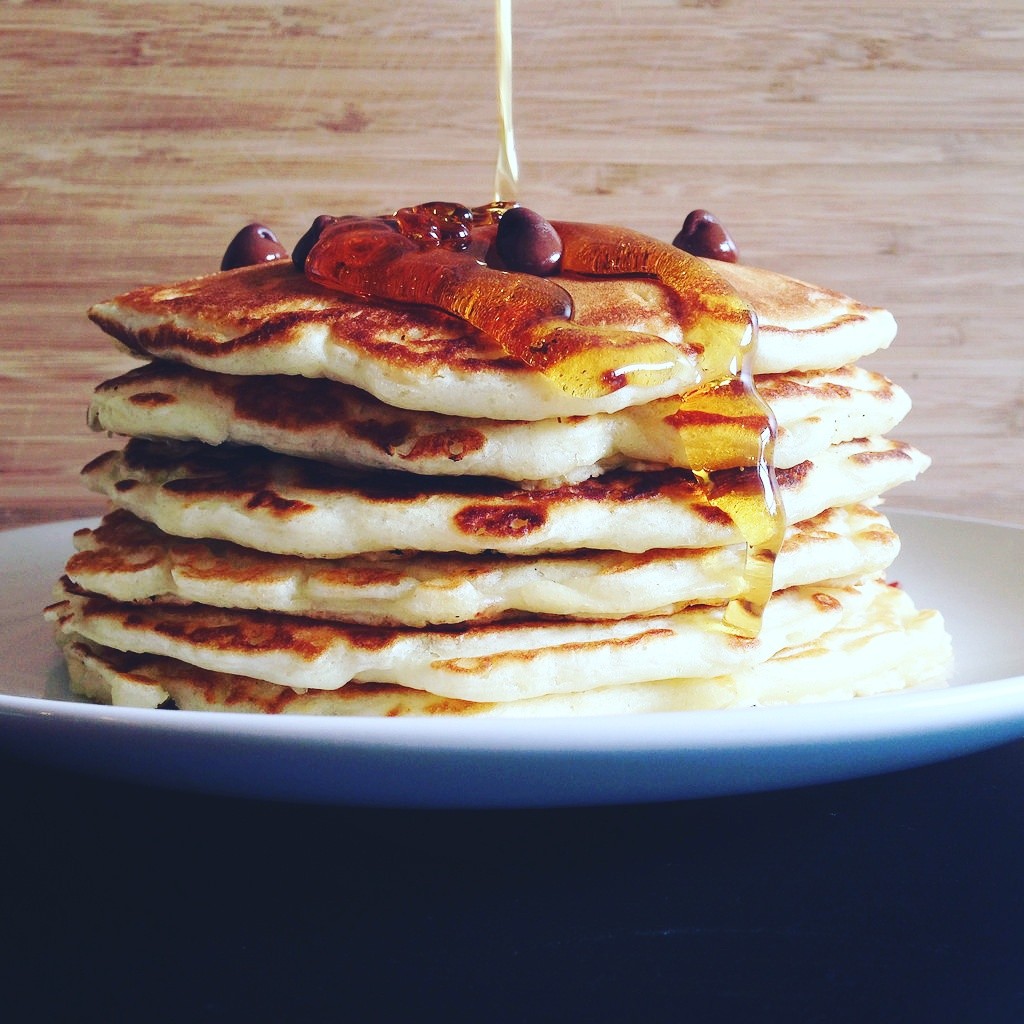 –Pancake photo by Joy with license CC by 2.0—
Yum. Banana chocolate chip pancakes are delicious and easy to make. Just make some pancake batter from a mix and cook pancakes according to package directions. The only difference… before you flip your pancakes, drop some banana slices and chocolate chips onto your pancakes. Then flip and continue cooking as usual. You can put any remaining banana slices and chocolate chips on top of your pancakes before serving. Top it all with some maple syrup and you've got yourself a satisfying, cheap breakfast.
(2 pancakes made from Bisquick mix = $0.25 + 1/8 cup maple syrup = $0.12 + 1 banana in slices = $0.33 + 2 tablespoons of chocolate chips = $0.22; Total = $0.92)
Cheap 
Breakfast
 #2: 

Fried Egg on Toast = $0.59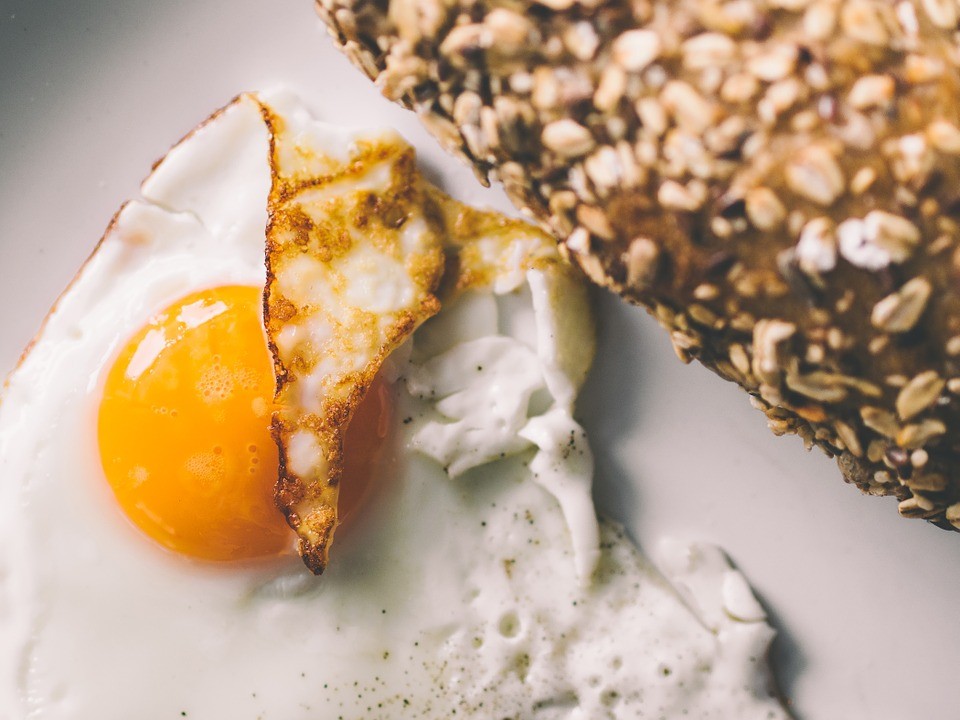 If you want a cheap, egg-cellent breakfast (pun intended!), go for toast with fried eggs. You can keep the toast dry and let the running egg yolks run over the toast. Or you can add some butter to your toast and cook the yolks through. However you like eating your eggs on toast, this is a cheap way to fill up for the start of your day.
(2 pieces multigrain toast = $0 .30 + 2 eggs = $0.29; Total = $0.59)
Cheap 
Breakfast
 #3
:

Berry Oatmeal = $0.97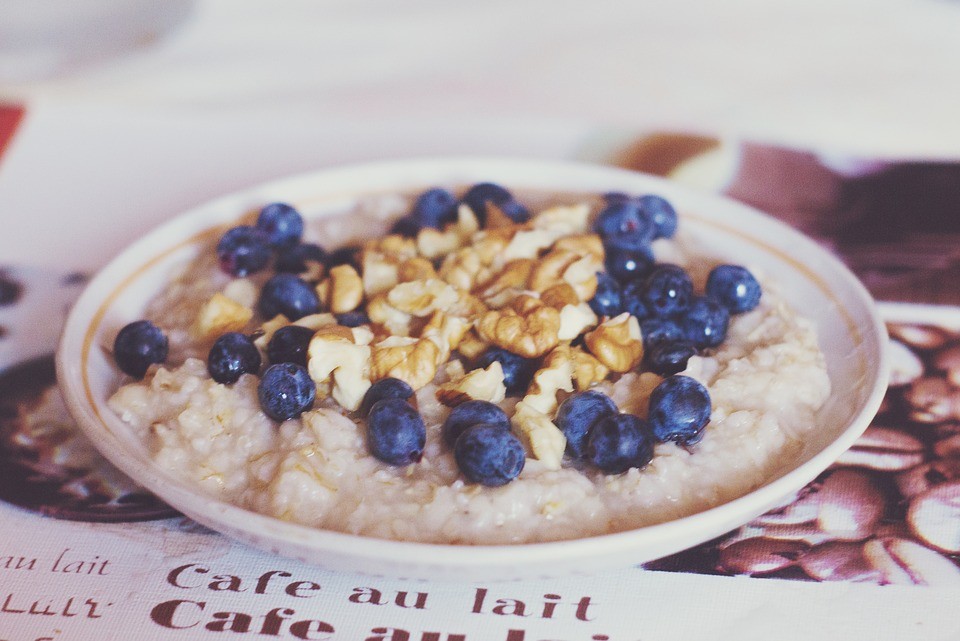 In my opinion this is one of the most filling and healthy breakfasts you can eat on a budget. Add 1/2 cup of dry oatmeal to a microwavable bowl, mix in 1 cup of water, and microwave this for 2 minutes or until the water is mostly soaked up. Add the honey, milk, and berries. If you have a little bigger budget, you can add nuts or more fruit.
Disclosure: Oatmeal is so filling to me that I mix only 1/4 cup of dry oatmeal with 1/2 cup of water and it's the perfect amount for me. Feel free to experiment and see what you prefer.
(1/2 cup dry oatmeal = $0.16 + 1 tablespoon honey = $0.08 + 1/2 cup blueberries = $0.63 + 1 tablespoon milk = $0.10; Total = $0.97)
Cheap
Breakfast 
#4
:

Healthy Hash Browns = $0.83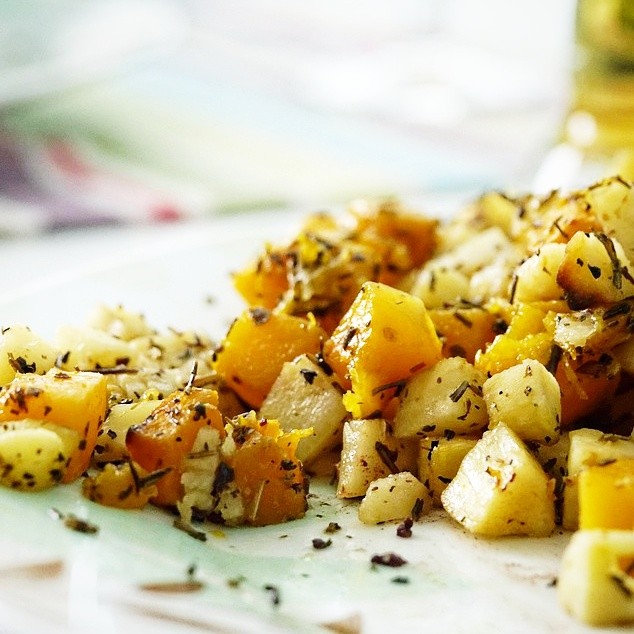 This healthy hash is a budget-friendly breakfast because you can adjust your ingredients depending on how much and what you can afford. Keep it simple and just pan fry diced potatoes and sweet potatoes with a little seasoning, or, if you have more room in your budget, add in some bacon bits, mushrooms, or other ingredient.
(1 cup of potato = $0.39 + 1/2 cup of sweet potato = $0.44; Total = $0.83)
Cheap 
Breakfast
#5
: 

PB Banana Toast = $0.99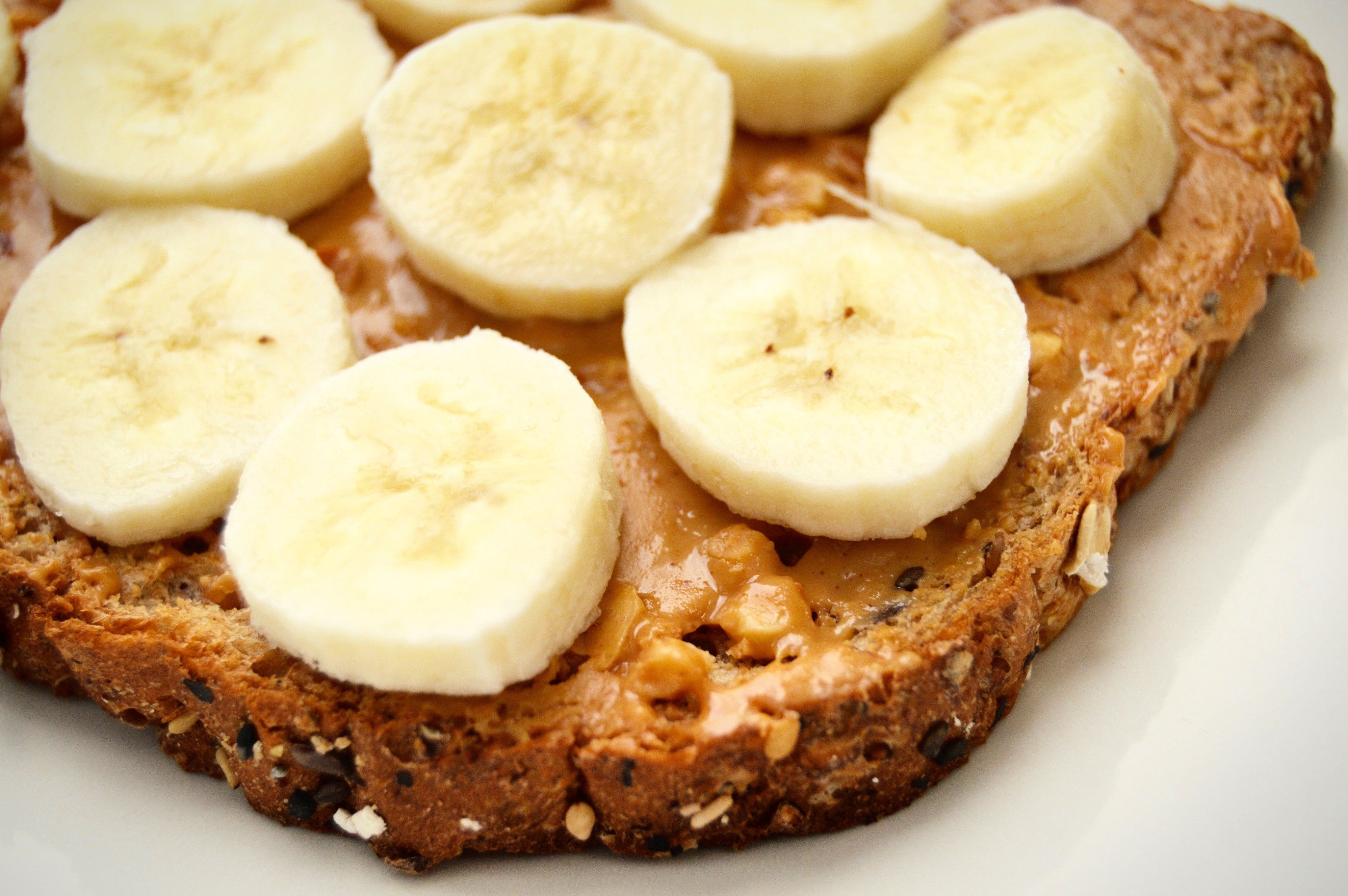 This is one of my go-to breakfasts because it's healthy, super quick to make, and… you guessed it… cheap. Just toast 2 pieces of multigrain toast and instead of buttering them, spread peanut butter on instead. Then slice up a banana and add these to the top.
(2 pieces multigrain toast = $0.30 + 4 tablespoons peanut butter = $0.30 + 1 banana sliced = $0.33; Total = $0.99)
Cheap 
Breakfast
 #6
: 

Cream Cheese Bagel = $0.62
Super quick and easy breakfast for cents. Toast a bagel (comes in many different varieties–plain, blueberry, cinnamon raisin, onion, whole wheat, etc.), add butter if desired, and smear some cream cheese on top (which also comes in different flavors).
(1 bagel = $0.42 + cream cheese = $0.20; Total = $0.62)
BONUS 
Breakfast
 Ideas
: 

Grab 'n Go < $1
It's a good idea to have some cheap grab 'n go breakfasts on hand in case you find yourself running out the door one morning without time to make breakfast. Doing this will be way more cost effective than going to Starbucks, the vending machine, or buying other eat-out foods. So you can be prepared for the crazy mornings, here are a few cheap breakfast ideas for on the go that are still under $1.00:
Hopefully we've given you a meal idea that you and your wallet can get excited about! If you liked any of the ideas we gave pin the image below to save it for later and share it with your friends. And if you have any go-to cheap menu ideas please let us know in the comments below.
Pin It For Later

Don't forget to check out our post on 6 tips for How to Feed a Large Group on a Budget by clicking here.
Other Posts You Might Like