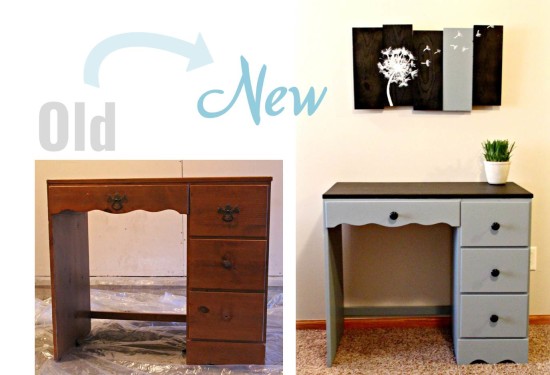 We are all about creativity here at The DIY Lighthouse, and a chalkboard surface provides the perfect opportunity to create even after your DIY project is complete! And thanks to some genius human, you can now paint a chalkboard onto practically anything, hence this fun chalkboard desk. The dreamy dandelion wall art I made perfectly complements the inexpensive, boring desk turned chic.
I found the desk for $15 at a local furniture thrift store. I wish I had bartered him down to $10, but hey, it was still a great deal. I used a primer so the paint wouldn't soak into the wood and require several coats.  One coat of primer and two coats of eggshell blue paint was all it took for the body of the desk. Oh, and I got both the primer and eggshell blue paint free. (See how I found free primer and paint here.) The only materials I had to buy were the chalkboard paint ($11) for the surface of the desk and drawer knobs ($8 for a pack of 10) that replaced the dated, rustic look for a more modern, chic feel.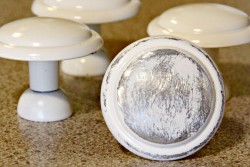 Buying the right drawer knobs/pulls can be pretty pricey (like $4 a piece!), so I bought of package of some the totally wrong color that were on clearance and sanded, cleaned, and spray painted them with a $1 can of black spray paint. Now that is DIYing it. (For tips on how to spray paint in a small area, click here.) The chalkboard top took about 3 coats of paint, but only ½ a pint, so I have more to use for another project.
Upcycling the desk was fun, but my favorite part of this DIY project was creating the complementary dandelion wall art. The wood came from a mattress frame that my husband and I smashed up when we upgraded to a big boy, king-sized mattress. If you promise not to tell, I'll divulge the unfortunate fact that the twin-sized mattress and frame my husband and I were using is the same set I slept on when I was five years old! No wonder my husband was so willing to help me destroy it.  (Side note: king-sized mattresses equal heaven.) To build the wall art, I staggered several pieces of wood and nailed them all to a board placed on the back. The piece complements so well because I painted one slab of wood the same color as the desk and the others black to match the chalkboard. The white dandelion was freehanded on at the very end using, again, free paint from the same place I got I primer and eggshell blue paint. I'm seriously in love with whimsical design and hope it inspires some great chalk creativity!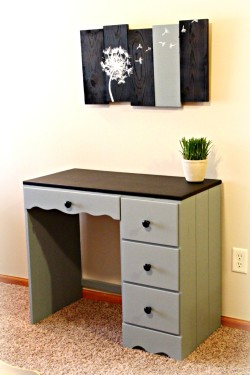 My total expense was $34. We were moving and didn't have room for it, so I sold the set at a bargain deal of $105 to a neighbor girl across the street. That's a $71 profit! It was also rewarding in the sense that I tried new things for the first time: I used chalkboard paint, built wall art, and created/sold something as a set. Feel free to step outside your comfort zone and try something new too!