This shop has been compensated by Collective Bias, Inc. and its advertiser. All opinions are mine alone. #JumpIntoSummer #CollectiveBias
As a former competitive swimmer and now mom, I've had to learn not only have to survive but thrive in my swimsuit and sandals. My daughter would seriously live at the beach if she could. When it comes to the whole family, water safety is key, but fun is important too. I've learned from my days in the sun (and water!) with a child, and I am eager to share some beach bag essentials that will keep you protected, comfortable, and having loads of beachy fun!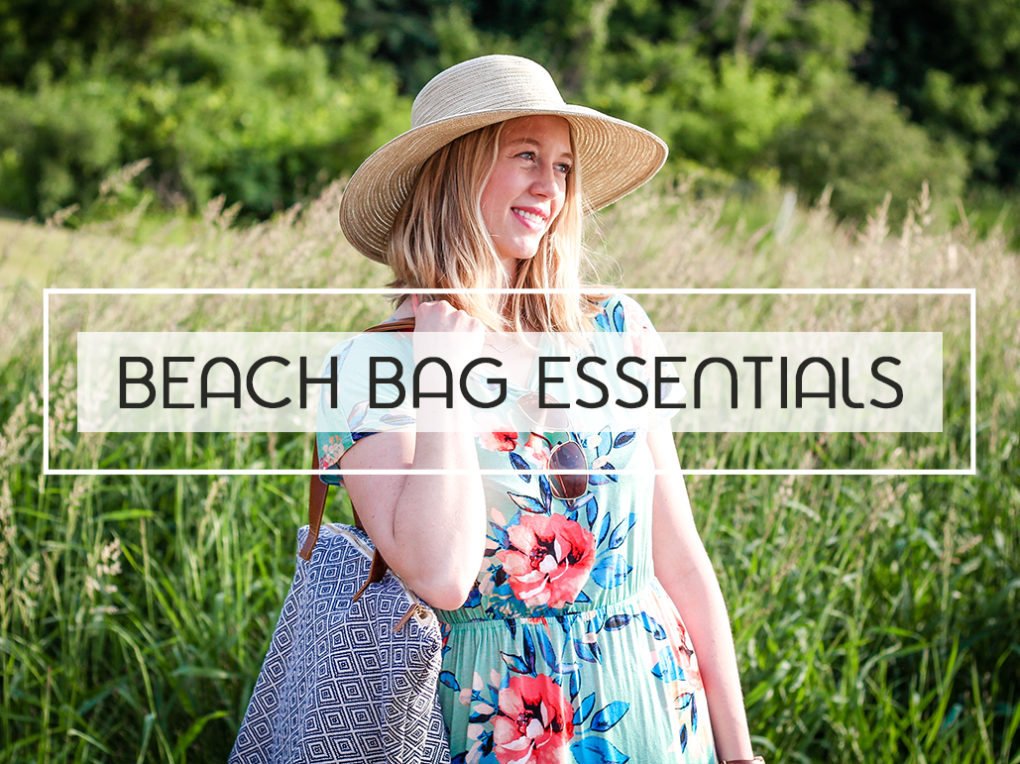 Summer Family Beach Bag Essentials
There are must-haves when it comes to the beach. Some beach bag essentials provide protection, others comfort, and others fun. All are important to having a good time at the beach as a family!
Beach Bag Essentials for PROTECTION
Sunscreen
You probably don't want your memento of the beach to be a red face. Applying sunscreen before and throughout a day at the beach is important, both for short- and long-term protection. Note: Be sure to research what types of sunscreen are best for each member in your family before use.
Water Bottles
Summer certainly brings the heat and with it a recipe for dehydration. Staying hydrated is vital to a long day in the sun. Pack plenty of water bottles with cool water. (Try to avoid beverages with high amounts of caffeine or sugar.) Other ways to stay hydrated include eating fruits and vegetables high in water and frequently cooling off in the shade.
Remember, it is easier to prevent dehydration than to treat it. In the case of severe dehydration, seek medical attention.
Life Jacket
Life jackets are definitely on my list, and they should be on yours too! They help make a day at the beach what it should be: safe, relaxing, and fun for moms and kids! Some parents find getting their kids to wear their life jacket a struggle. It doesn't have to be! A life jacket that your child will want to wear will have three things: (1) comfort, (2) usability, and (3) style.
My daughter adores her life jacket and (no joke) wants to wear it every day since we got it, a Stearns® Puddle Jumper® Bahamas 3D Life Jacket. I easily found it at Target in the Sporting Goods section (next to Home Improvement) down aisle C39.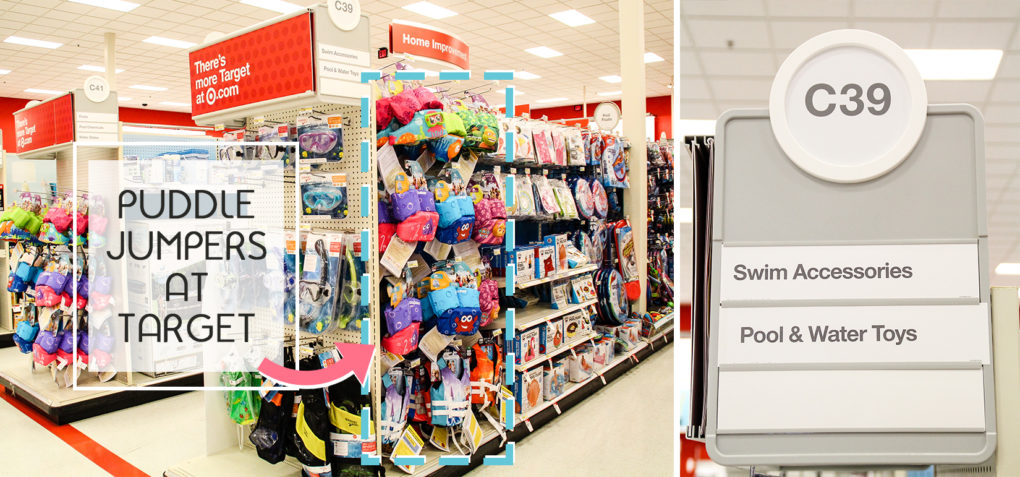 This life jacket hits all three points in comfort, usability, and style. The woven polyester makes the life jacket have a softer fabric–let me hear an, "Amen!" for less chafing! No wonder my daughter loves to wear it. In addition to soft material, it has a comfortable design, allowing her to play harder without trying harder. Freedom to swim and play in a life jacket is important if you're wanting your little ones to stay in theirs (aka stay safe)!
The usability is fantastic too. There are adjustable buckle snaps in the back. This means they are out of the way of little fingers but completely accessible by parents for needed adjusting or removal.
To top it off, the Puddle Jumper® life jacket also has a fun, 3D character in the front. PAW Patrol®, anyone?! You can see all the fun, stylish characters and read more about this US Coast Guard-approved life jacket HERE.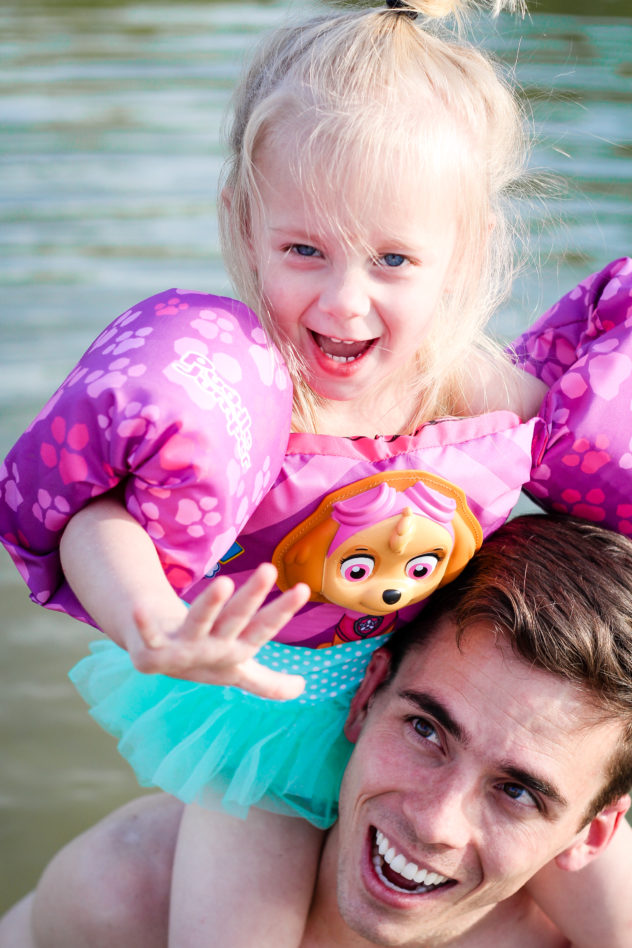 Whether playing around or learning how to swim, children 30-50 lbs. can move, swim, and play freely in water without the life jacket riding up around their necks. Though still cautious and safe, I love that I can take my daughter to the pool, the lake, or the beach and feel confident in and assured with her protection.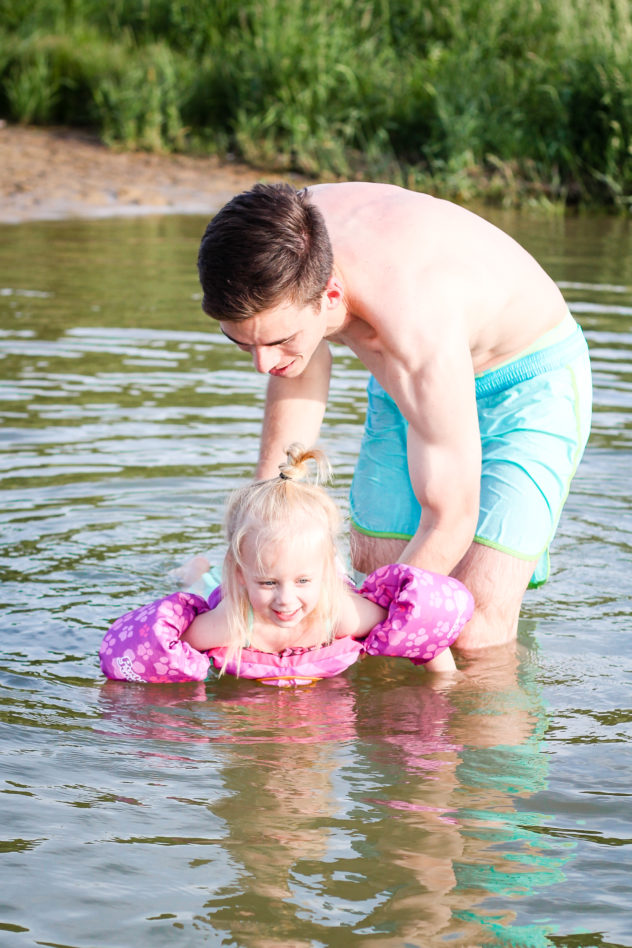 Towels
While towels are definitely useful for drying off, they provide other useful benefits too. At the beginning of the day, a towel can protect you from the hot sand. The sun may have been baking the sand all day and having an immediate protective layer between it and you is a must-have! At the end of the day, a towel can protect your car from sand and water. Put it to good use and shake it out well before jumping in the car!
Waterproof Bag
While not necessary for your protection, a waterproof bag is a great idea if you're wanting to protect your wallet and electronic devices. Water and sand can be damaging, so store any valuables or sensitive items in a safe place.
---
Beach Bag Essentials for COMFORT
Sunglasses
Squinting all day long might just give you a headache. Relax your eyes and yourself by wearing sunglasses that actually help tone those harsh sun rays down a notch or two.
Snacks
Playing can be hard work! Keep your strength up with some healthy and filling snacks. As mentioned above, fruits and vegetables with high water content help you stay hydrated. Nuts, whole grains, and protein will keep you feeling satisfied and provide you will much-needed energy for playing all day in the sun.
Clean Clothes
Wet or sandy clothes can, obviously, be uncomfortable. For the ride home or whatever fun follows your time in the water, be sure to bring a clean, fresh change of clothes. You'll feel more relaxed and comfortable as soon as you slip into them.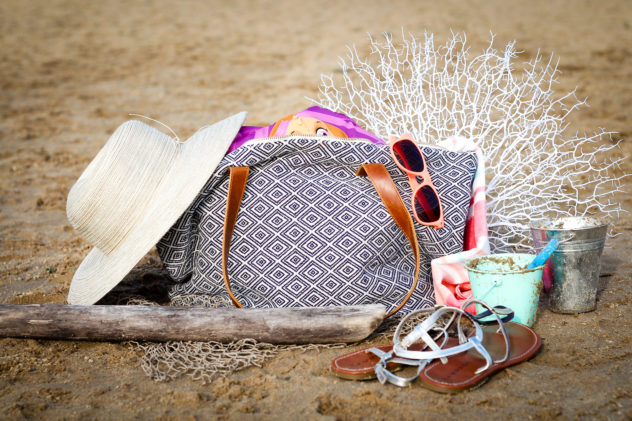 Hat
Floppy hat, safari hat, cowboy hat. Pick whatever floats your boat and wear it! Not only will it help protect your face, ears, and neck from the sun, it will help to keep you cool.
Cover-Up
Swimsuit cover-ups are great for many reasons: they provide more coverage while not playing in the water, give extra protection from the sun, act as a barrier between you and the sand or a chair, and absorb excess moisture. Having one of these in your beach bag can come in quite handy!
---
Beach Bag Essentials for FUN
Shovels & Buckets
What would a day at the beach be without a sandcastle?! Don't forget to come equipped with buckets and shovels. The imagination can run wild at the beach, and the sand is the perfect channel for creativity. I remember defending giant sandcastles against the incoming tide while growing up. Those memories with my family were built bucket by bucket, one shovelful of sand after the next.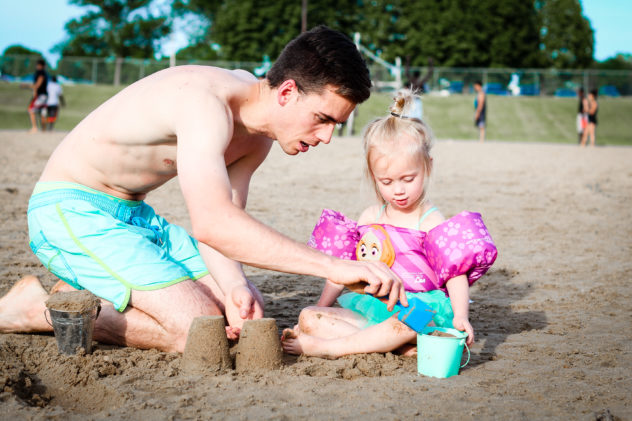 Book
If there is going to be someone else there to help you keep a close eye on the kids, bring a book! The beach is the perfect place to sit back and read. Some of my favorite books have been read poolside and at the beach.
Beach Ball
Whether you're casually hitting it back and forth in the water, playing beach volleyball, or having relays, beach balls can provide endless entertainment. And they fit easily in any bag before being inflated.
Portable Speakers
For some, the party doesn't really start until the music does. Bringing music to the beach with portable speakers will boost the fun and add to the energy!
---
Protection, comfort, and fun are all essential to a great day in and out of the water. It all starts with a beach bag and ends with a tired group and lots of memories.
Pin it for later!

Other posts you might like: