This shop has been compensated by Collective Bias, Inc. and its advertiser. All opinions for these babysitter essentials are mine alone. #KidfreshFavorites #CollectiveBias
As a teen, I used to babysit the neighborhood kids, and there were definitely the parents who made my job easier and those who didn't. As a mom now, I want my babysitter to worry about what matters most. Think: watching after my toddler's safety and wellbeing and not worry about less significant things. So, I'm sharing the important things I call the "Babysitter Essentials" that I leave with my babysitter.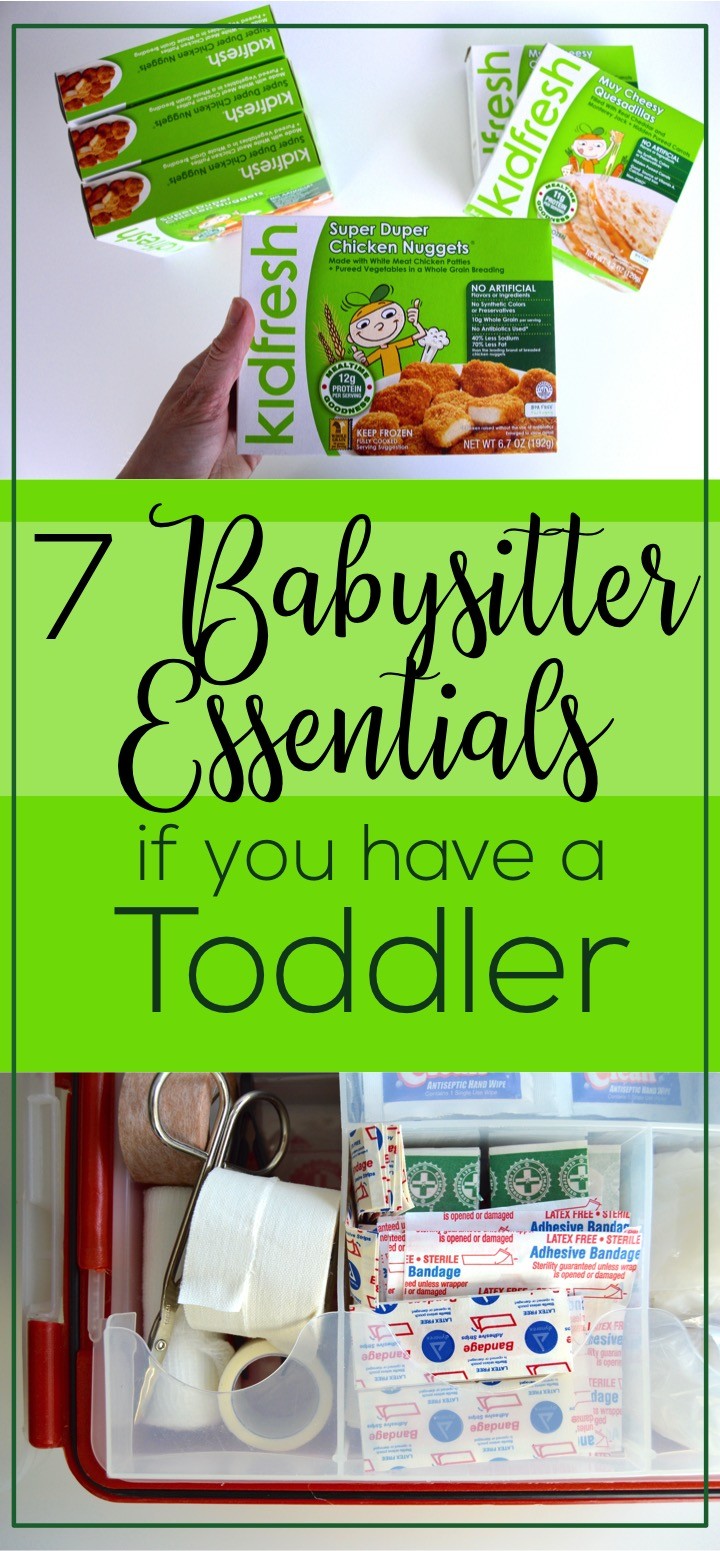 Toddler Babysitter Essentials
Below is a tutorial for smart things to leave your babysitter if they're looking after a toddler. By preparing each essential ahead of time, you'll leave your babysitter prepared and able to focus on your little one.
#1 – An Easy Meal (Like Kidfresh Frozen Meals)
Extensive mealtime prep/cleanup definitely falls under the "less significant things" my babysitter could be doing. That's why when we have a babysitter over, our toddler gets to eat a meal like Kidfresh Frozen Meals.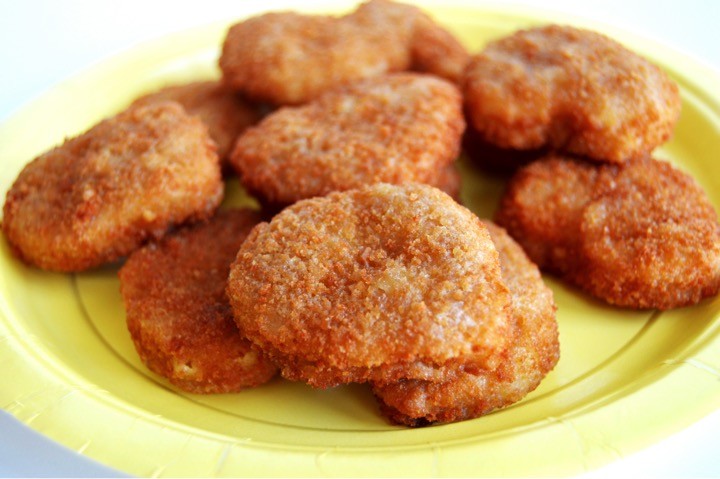 You can pick up Kidfresh Frozen Meals at any Kroger brand store. (Click here to locate the store closest to you.) Heading over to the frozen foods area, you can find Kidfresh in the family meals section.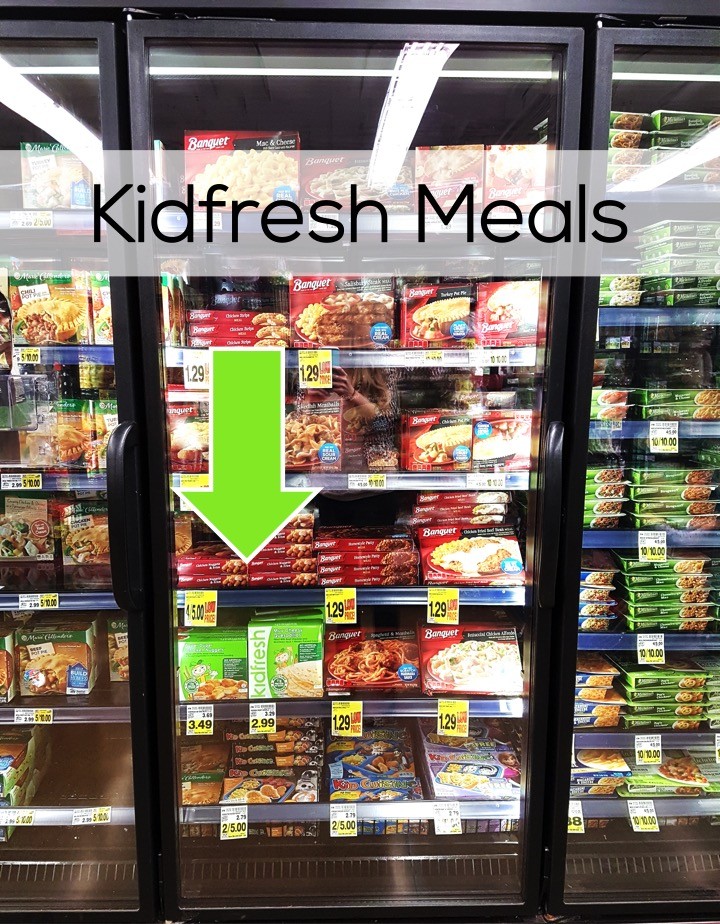 For a limited time at Kroger and its other stores you can save at least 15% off the everyday retail price! Therefore, I grabbed multiple boxes to stock up the freezer. FYI, there are many meal options to choose from. Kidfresh has single-serve meals: Wagon Wheels Mac + Cheese, Spaghetti Loops + Meat Sauce, and Muy Cheesy Quesadillas. It has multi-serve meals: Super Duper Chicken Nuggets, Mighty Meaty Chicken Meatballs, and Fun-Tastic Fish Sticks. Kidfresh also has sides: Totally Rockin' Tots and SuperBlastin' Bites. I just picked out what I thought would be my little guy's favorites: Kidfresh Super Duper Chicken Nuggets and Kidfresh Muy Cheesy Quesadillas.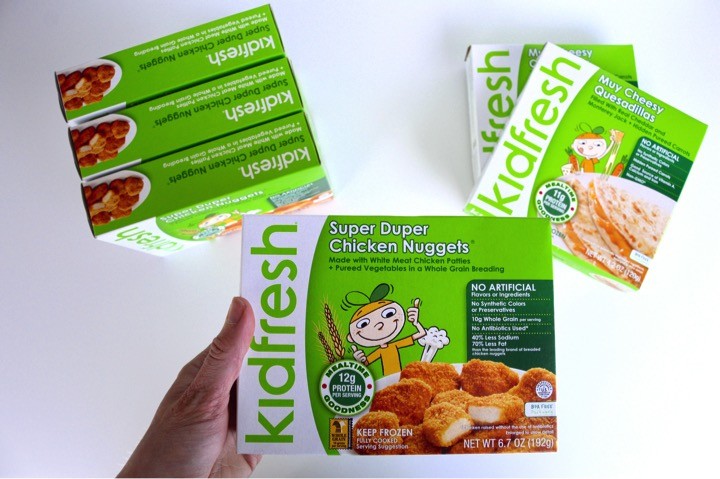 Kidfresh is great for your toddler because there are hidden veggies inside the food (with up to ½ cup in each meal). The best part? Your toddler will never realize. It's nice knowing that all Kidfresh meals are made with no artificial flavors or ingredients and no synthetic colors or preservatives. That's a meal that you can trust as a parent.
I like what Kidfresh had to say…. "At Kidfresh we are just like you, we want to have kids' foods without all these artificial ingredients that you can't even pronounce! We made it our mission to create nutritious options for kids'- ones that children love to eat and parents can trust."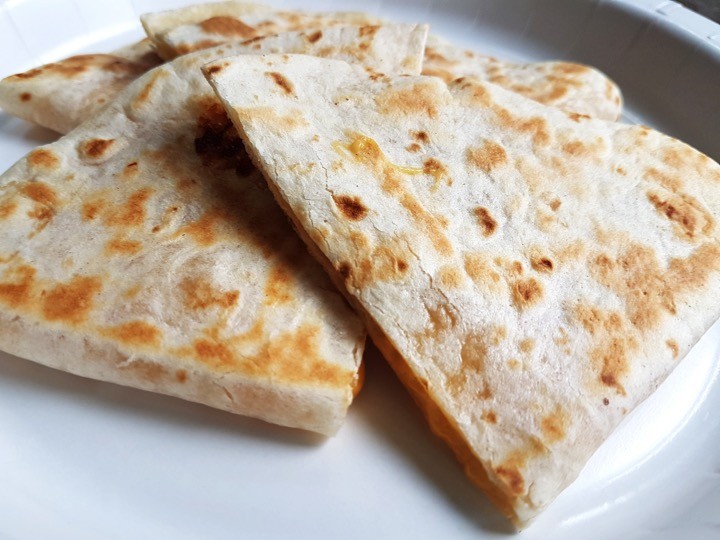 Kidfresh is also great for your babysitter because it's convenient and simple to prepare. Meals are microwavable and ready to eat in only 4 minutes. (Conventional oven option as well.) Cleanup is very minimal too which means your babysitter is spending more time looking after your toddler and less time in the kitchen.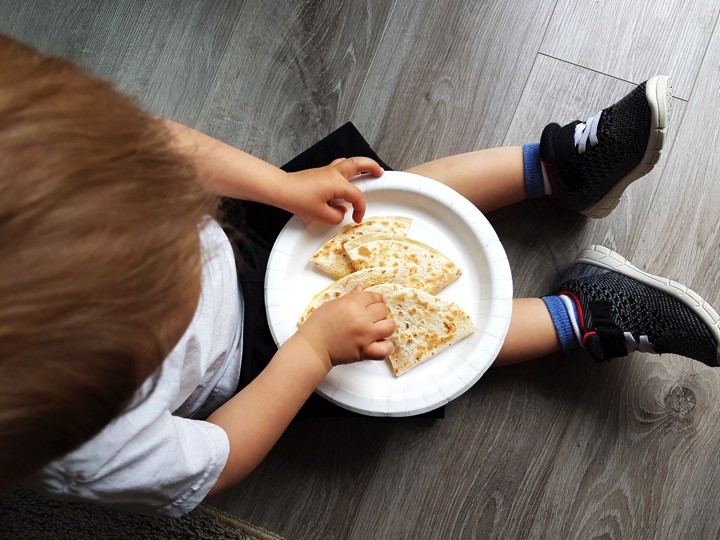 You can find Kidfresh on Instagram, Facebook, Twitter, and Pinterest for more meal inspiration and information.
#2 – Emergency Contact Phone Numbers
This one definitely makes the Babysitter Essentials list. Heaven forbid something bad happens while you're away, but just in case, you'll want to leave some emergency contact phone numbers. You want to leave the babysitter phone numbers for you, your date, the hospital, poison control, etc.
Saying, "Just call 911," doesn't cover all of your bases. What if the babysitter doesn't know what to do if the toilet starts overflowing? What if there is someone who keeps knocking on the front door? What if your toddler gets hurt or sick? For instances like these, emergency contact numbers are a good idea.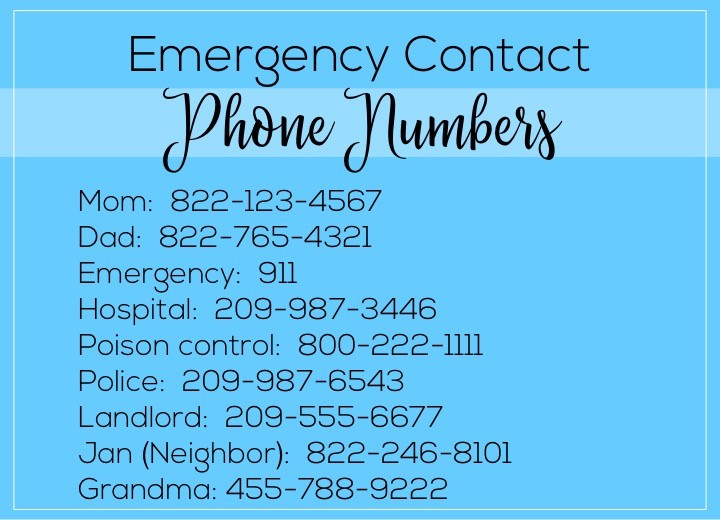 #3 – List of Games/Activities
We're talkin' a small list of games and activities that your babysitter can do with your toddler. This will help give your babysitter direction as to what things your toddler likes to do to pass the time. You'll want these activities to be fun (for your toddler) and as mess-free as possible (for your babysitter). This list could include things like: color at the kitchen table, build his train, read books, etc.
#4 – A Kid Movie & TV/Remote Instructions
I don't let my toddler sit in front of the screen all day, but having a babysitter over is a special occasion. To make it easier on the babysitter, I absolutely let my little guy watch a movie or show. This is especially nice if you'll be gone for more than a couple of hours. I will usually have a couple of movie choices picked out ahead of time that I know will be kid-appropriate. Then, when it comes time for my babysitter to start the movie, my toddler can make the final selection so he feels like he is part of the decision process.
I also have tv/remote instructions or explain how to use them before I leave. Starting the movie yourself just before walking out the door to make sure it's up and running is not a bad idea.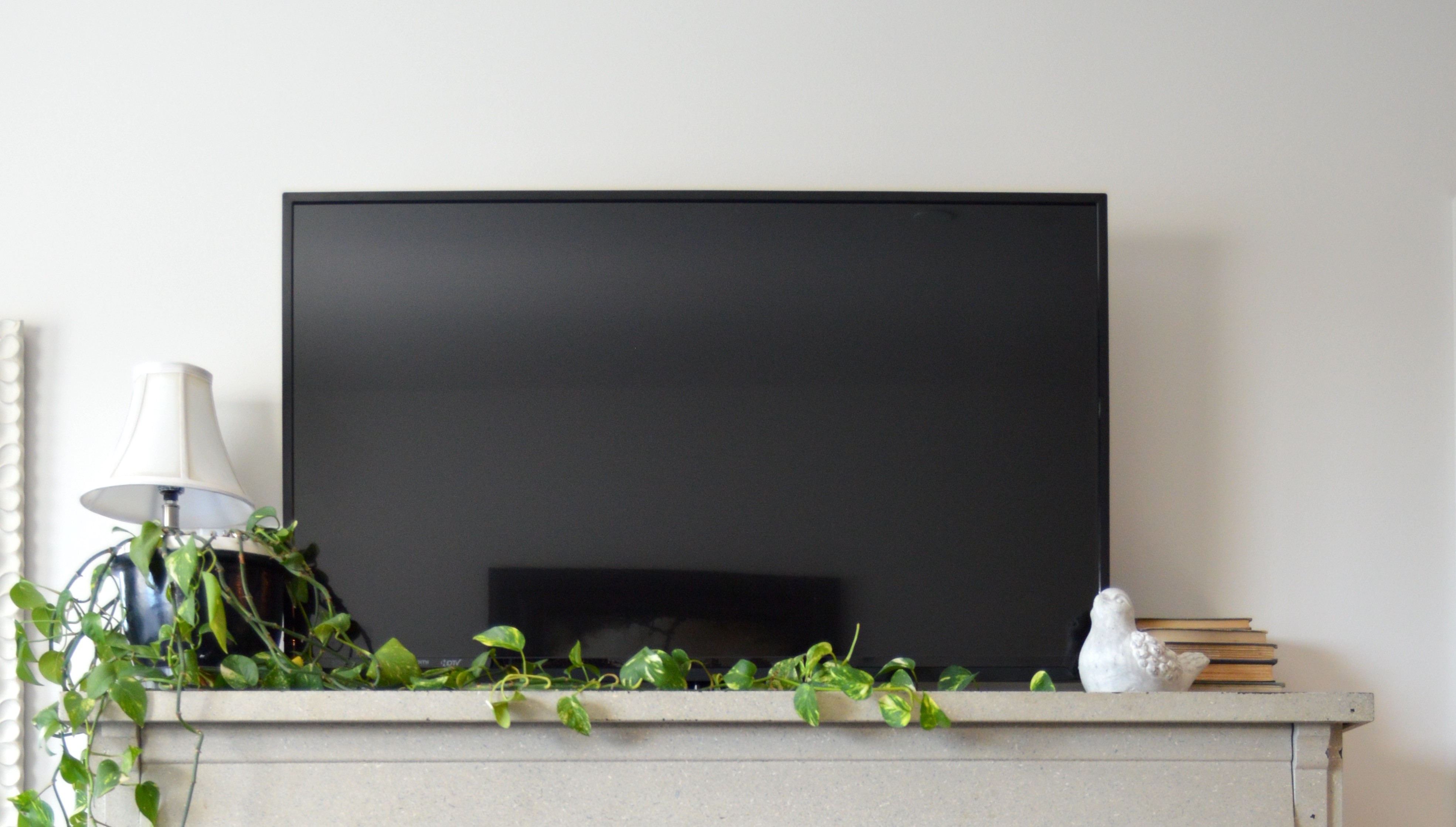 #5 – Bedtime (or Nap) Routine Instructions
Chances are your toddler has a bedtime or nap time routine. You can make your absence easier on your toddler and babysitter by writing down your toddler's routine in a simple list format. (For example: pajamas and clean diaper, last chance for milk, brush teeth, etc.) Your babysitter will thank you having this as one of the babysitter essentials.
Making this list will also give you peace of mind that your babysitter will cover all the bases. You may also want to let them know what to do if the toddler doesn't go to sleep right away. Every parent handles bedtime differently, so letting your babysitter know what to expect and how to act is a good thing. Be sure to also let them know what time to put your toddler to bed.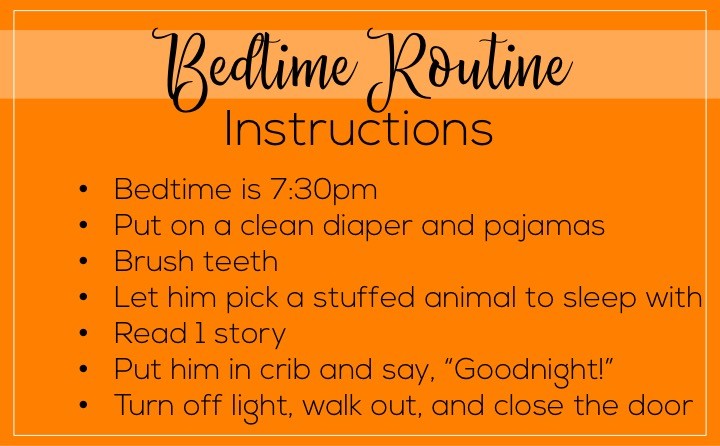 #6 – First Aid Kit
A first aid kit definitely makes the babysitter essentials list. Like #2, we hope your babysitter doesn't have to use it, but having a first aid kit that they can easily access will make a bad situation for the babysitter less stressful. Plus, sometimes bandaids can magically help make toddlers feel better 🙂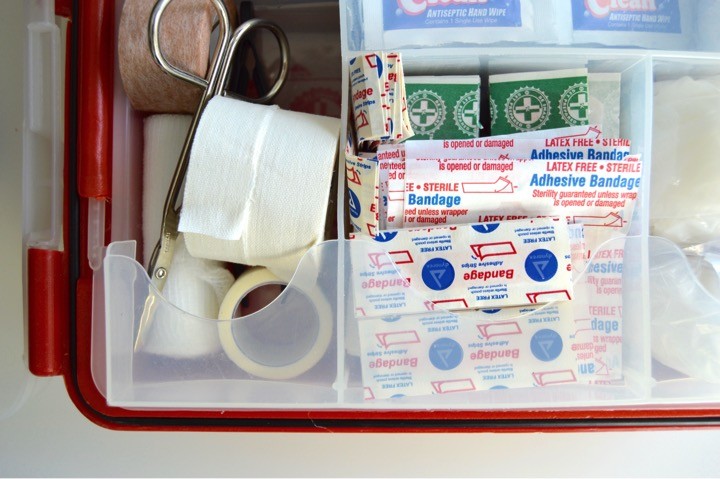 #7 – List of Don'ts
Lastly, you'll want to make sure your babysitter is aware of all the don'ts for your toddler or themselves. You know your child and any last instructions the babysitter should know or things to avoid. This list could include things like: allergic to nuts, no going outside, don't discipline just report bad behavior, only 1 pack of fruit snacks, etc.
If you're also all about making life easier for your babysitter, then I hope you found this list of babysitter essentials useful.
What are things you do when you a babysitter comes over? If you have any babysitter essentials, thoughts, or advice please share in the comments section below!
Pin It For Later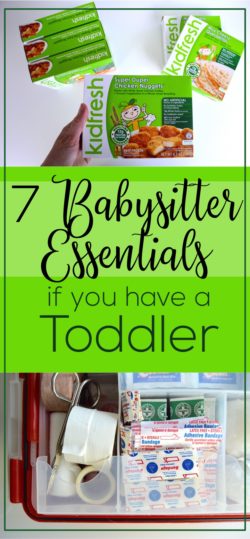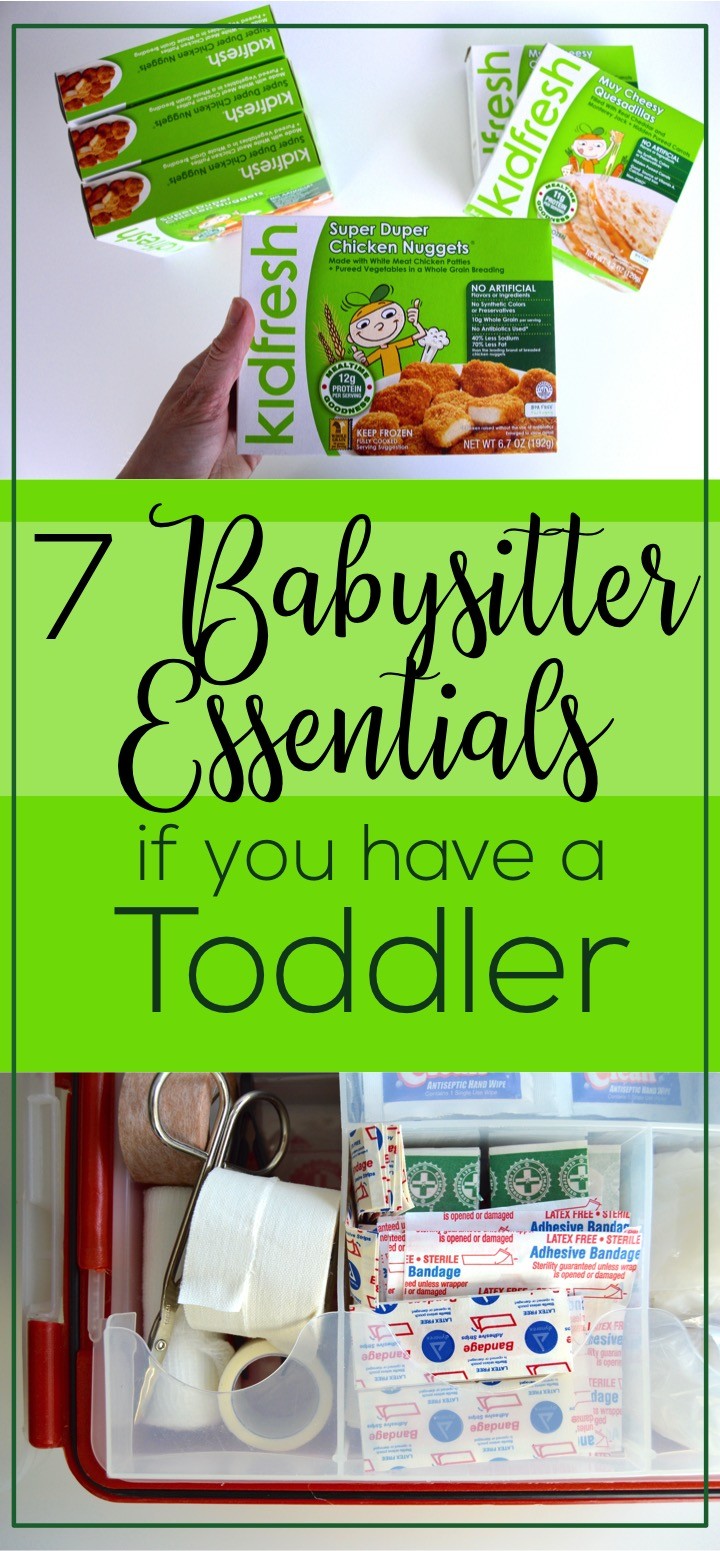 Other things you might like