Don't let making dessert be the death of you on Halloween night. Cupcakes are a quick, simple way to bring some tasty and cute Halloween spook into your kitchen. In fact, these 7 Halloween cupcake ideas are so easy it's scary!
(This page contains affiliate links that we may be compensated for. Your clicks and purchases help support The DIY Lighthouse at no extra charge to you. We only put links to products we love and would recommend anyway.)
1. Pumpkin Spice Cupcake
This one is a fall season classic but works really well on Halloween night too! For the pumpkin look, simply use an orange cupcake liner, vanilla/chocolate spice cupcake batter, orange frosting, and green frosting. I used this jumbo closed star frosting tip for both colors. Leaving the orange frosting fairly flat allows the the green stem to rest on top and end in a nice pumpkin stem swirl.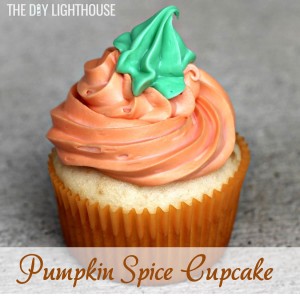 2. Sweet Frankenstein Cupcake
Who knew Frankenstein could be so sweet? To achieve this Frankenstein look, use a green cupcake liner, vanilla/chocolate batter, green frosting, Oreos, and Reese Peices or M&M's. Pipe on the green frosting using this regular sized open/closed star tip. Sprinkle crushed oreo on top for the hair and add chunks on either side to replicate the neck bolts. Add two Reese Peices or M&M's for eyes.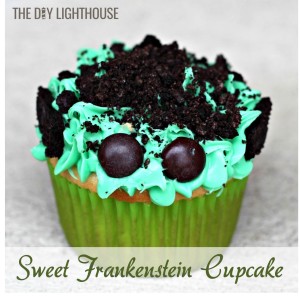 3. Ghouly Ghost Cupcake
Of all 7 Halloween cupcake ideas, this is the easiest. The ghouly ghost uses the basics: a white cupcake liner, vanilla batter, creme cheese frosting, and these candy eyes. I used this jumbo closed star frosting tip, but a plain round tip would work just as well. Edible candy eyes can be found down the baking goods isle at the store or on Amazon. Wait to add the eyeballs until the frosting has had a few minutes to harden; otherwise, the frosting may droop onto the eyes.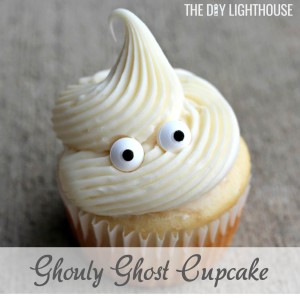 4. Death by Oreo Cupcake
The Death by Oreo cupcake looks and tastes like the perfect Halloween treat! The orange cupcake liner, white frosting, and black Oreo are spot on as far as traditional Halloween colors go. You can use either vanilla or chocolate batter, as either will look great with this cupcake design. I used this jumbo french frosting tip, but any jumbo frosting tip will look just as good. Crush Oreos to sprinkle on, and top with a whole Oreo (pushing the Oreo slightly down into the cupcake will help it stay upright).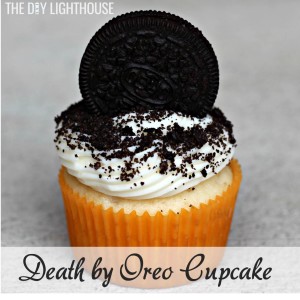 5. Mad Monster Cupcake
I love this Halloween cupcake idea because it's very adaptable. Here, I used a purple cupcake liner, vanilla batter, purple and green frosting, and candy eyes. If you'd prefer an orange and black color scheme, go for it! Any Halloween color combinations will work well in this cupcake design. I used this regular closed star frosting tip and let the frosting drag out at the end of each pipe. This creates the "mad" and hairy look. Add two (or however many you want) edible candy eyes. Whatever mad monster you have in mind, have fun with it and get creative!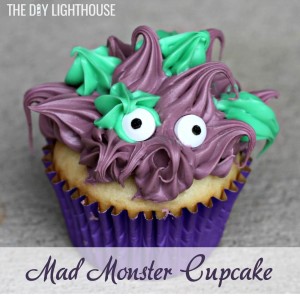 6. Eerie Eyeball Cupcake
This cupcake is slightly creepy, and, like the Ghouly Ghost Halloween cupcake idea, it is very simple. I used a white cupcake liner, vanilla batter, white frosting, a white chocolate Lindor truffle, and a spot of black frosting. To achieve this frosting look, start by applying pressure to the frosting bag in the center of the cupcake (tip should be pointed straight down), and don't release the pressure until the cupcake has the mass of frosting that you're going for. I used this jumbo closed star frosting tip. Top it off with a white chocolate Lindor truffle and add a dot of black frosting to the middle of the "eyeball" for the pupil. (You can buy 120 Lindor truffles for $31.67, 60 truffles for $21.98, or 12 truffles for $8.99…basically, bulk gives you the biggest bang for your buck.)  This cupcake doesn't just taste delicious, it's eye candy too! (Pun definitely intended.)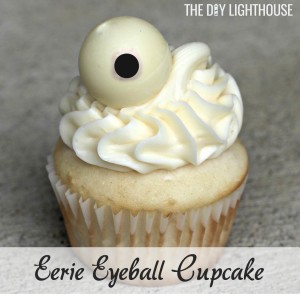 7. Candy Corn Cupcake
This Candy Corn Halloween Cupcake is super cute and super fast! Just like a candy corn, use yellow as your base with the cupcake liner. Vanilla batter should be used in this design to mimic the white of the candy. For the orange icing, I used this jumbo closed star frosting tip and topped it off with a candy corn. This is another cupcake that can easily be adapted as your creativity gets going.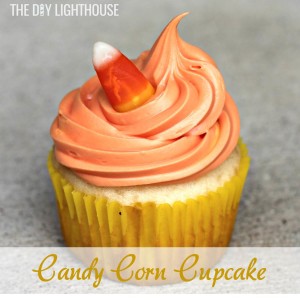 Hopefully these 7 Halloween cupcake ideas satisfy your Halloween sweet tooth even before the Trick-or-Treating starts! Let us know of any other Halloween cupcake ideas you have and how much your family and friends love them. Happy spooky, and sweet, Halloween!
Halloween Themed Cupcake Liners
Other posts you might like: