Valentine's Day is approaching! Looking for some Valentine's Day traditions to start with your family? Well. . . Roses are red, violets are blue, read the traditions below, so you'll know what to do!  
I love that there is a day dedicated to showing and telling your family and friends how much you LOVE them. While I was growing up, my parents got pretty into celebrating Valentine's Day so we started some fun traditions. Here are 5 Valentine's Day traditions your family will love!
Valentine's Day Traditions
1. Valentine Mailboxes
A few days before Valentine's Day (or just the night before–depending on how long you want this to go), construct homemade valentine mailboxes. This is a fun project with kids! They don't have to be fancy, just grab some empty cereal boxes, red/pink/purple colored paper, scissors, tape, and markers and go to town. Each person can write their name on their mailbox and put it outside of their bedroom door. Tell the kids they can write love letters to each other and leave them inside the mailboxes. It's good to have this last a few days so that everyone has time to secretly leave a few letters for each other–it is so exciting walking by your mailbox and discovering a note inside! Then on Valentine's Day morning there can be more notes and even little gifts inside. (See #3 below for a gift idea.)
2. Heart Pancakes for Breakfast
This "hearty" breakfast–pun intended–is a winner! Make heart-shaped pancakes by drizzling your batter into the shape of a heart. (Tip: Add some red food coloring to your pancake mix for a little color.) You can top your pancakes with some whipped cream, syrup or strawberry jam, and slivered almonds. For perfectly festive sides, serve with strawberries cut into hearts, bacon-wrapped hearts, and/or heart-shaped fried potatoes. Kick the whole breakfast up a notch with a strawberry smoothie.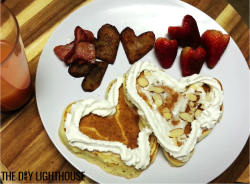 3. "I Love You" Socks
One of my favorite family traditions is the "I Love You" socks from my parents. It's a practical and meaningful gift. Every Valentine's Day my parents would write "I Love You" on the bottom of socks (usually simple, white ankle socks) and put them in our valentine mailboxes (see tradition #1 above). Who doesn't love–and need–a couple of pairs of brand new socks? And the bottom of socks are a perfect place to write a little love note. . . . Your kids can see and treasure the message over and over again, but they can hide it in their shoe (away from friends) if they're embarrassed to broadcast it.
4. Leave Love Notes
On Valentine's Day leave little love notes for your spouse and kids to find. Write a note on the bathroom mirror with dry erase marker, stick a note on each item in the kids' sack lunches, hide a note in their shoes, etc. leave little love notes for your kids to find. Make it easy by just using Post It notes and a marker. Say things like, "I love you!" "Happy Valentine's Day," "I <3 U," "LOVE," "Be Mine," etc. It doesn't have to take much time or effort but it will mean a lot.
5. Heart Attack
This is the heart attack people will appreciate! Have your family pick a person who they think may need a little love–a neighbor, a friend, etc. Then cut out a bunch of hearts from different colored paper (reds, pinks, purples, and white). The more hearts the better! Write little messages on the hearts like, "We love you!" "You're awesome," "You have a beautiful smile," and "Happy Valentine's Day." On a big paper heart write, "You've been HEART attacked!" Then tape the hearts all over the person's front door. (Or tape them onto bamboo skewer sticks and then stick the hearts all over their front lawn.) Door bell ditch the surprise or just wait for them to find it on their own.
Hopefully you picked at least one of these fun Valentine's Day traditions to start with your family. If you have questions or other fun Valentine's Day ideas please leave a comment below! Happy Valentine's Day!