Afraid you won't have any idea what to make for breakfast Halloween morning? Don't fear (save that for the haunted houses) because we've got your back. Below are five spooktacular Halloween breakfast ideas.
1. Pumpkin Waffles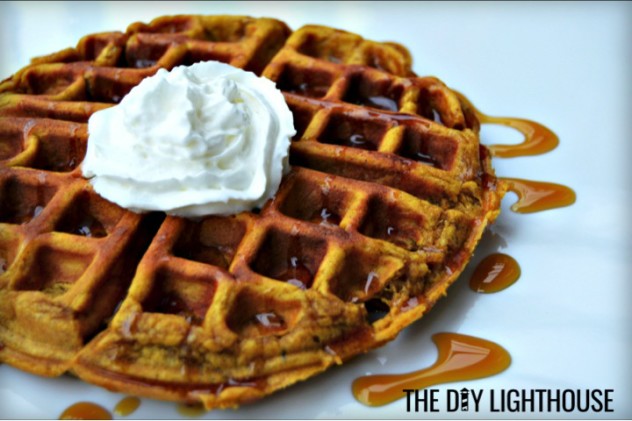 The whole family will love this Halloween breakfast! Follow this recipe (click here) from Savory Nothings for moist and flavorful Pumpkin Waffles. Simply top with maple syrup and whipped cream. You've been warned–this recipe may be so good it gives you goosebumps.
2. Monster Mash Hash
Have a full Halloween day ahead with costumes, parties, and trick-or-treating? This breakfast idea is great for someone looking for a hearty start to Halloween. Follow this recipe and directions:
Chop up 5 red potatoes and 1/2 red onion, and fry them in a skillet with some butter, salt, and pepper. When they are almost done, add 1 chopped up green onion. Continue to cook until potatoes and onions are browned and tender, then set aside.
In a bowl, mix 5 eggs with green food coloring until you get a nice green color. Then scramble the eggs in a separate skillet with some salt and pepper.
Cook some bacon strips according to the package directions and chop the strips into bite-size pieces.
Finally, mix the potato hash, scrambled eggs, and bacon together. If desired, garnish with green onion. Enjoy, but beware! Once you serve this dish to your family, they may repeatedly ask for it.
3. Frankenstein Smoothie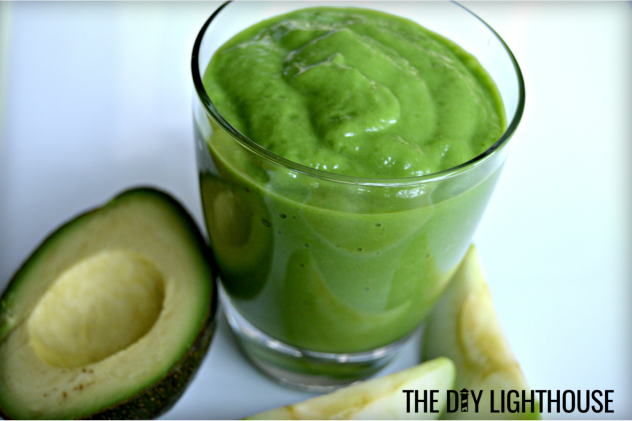 If you're looking for a healthy start to a usually less-than-healthy day, the Frankenstein Smoothie is a great way to celebrate Halloween without the sugar rush. To brew up this healthy drink, simply blend 1/2 avocado, 1/2 green apple, 2 large handfuls spinach, 1 ripe banana (use a frozen banana to add more chill to your drink), 1 cup cold pineapple juice (or apple juice), and ice in a blender. Feel free to change up the recipe, but remember not to add anything (like berries) that will alter the ghoulish green color.
4. Spider Web Pancakes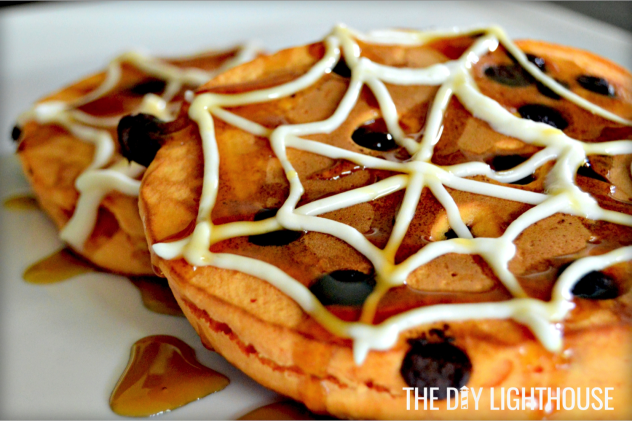 If you want the kids shrieking for joy, cook up some spooky Spider Web Pancakes. To make things easy, use pancake batter mix and follow directions on the package, but add some orange food coloring (or a mix of yellow and red) to turn your pancakes orange. Pour some batter onto your skillet, and sprinkle some chocolate chips on top. Then cook your pancake as usual, flipping to cook the other side.
When your pancake is cooked, it's time to add the cream cheese drizzle. (Make your own drizzle: In a bowl, beat 4 oz cream cheese at room temperate, 1 cup powdered sugar, 1/4 cup unsalted butter at room temperate, and 1/2 teaspoon vanilla extract.) Form a spider web by drizzling the cream cheese glaze in straight lines across your pancake and then finishing the web by connecting the straight lines with arcs going all the way around the pancake. (Reference the picture above.)
Finally, top with some maple syrup and devour. Enjoy! It's to die for.
5. Candy Corn Yogurt Parfait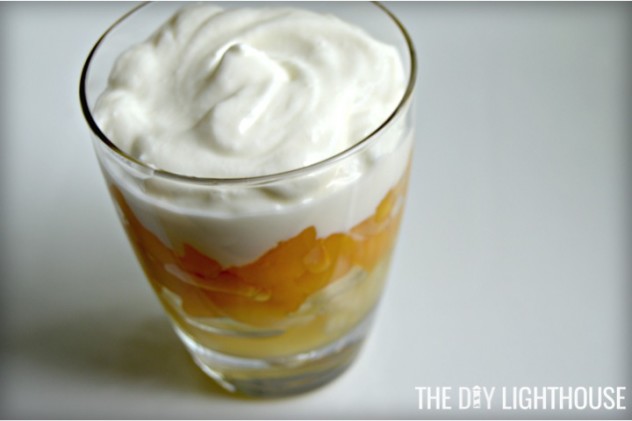 Is your sweet tooth lurking, but you want to save the sugar for later in the day? Use some hocus-pocus and trick that tooth with this sweet but healthy breakfast idea. The Candy Corn Yogurt Parfait plays off of the candy corn colors (yellow, orange, and white). It is terrifyingly easy to make and clean up…no broomsticks needed.
Take a glass cup so you can see the candy corn colors. Put some yellow fruit at the bottom of the cup, add a layer of orange fruit, and top with plain greek yogurt. For the yellow layer, use pineapple chunks, banana slices, or another yellow fruit. For the orange layer, use mango chunks, peach chunks, mandarin orange slices, apricot slices, cantaloupe chunks, or another orange fruit. This breakfast is best served cold like a corpse.
Hopefully this gave you some good ideas for your Halloween breakfast. If you don't know "witch" Halloween breakfast idea to pick, try them all and let us know which one is your favorite! Happy Halloween!