Whether you're wanting to display a floral arrangement with great sentimental value to you or just wanting to add a new dimension of vintage beauty to your walls, this DIY floral wall hanging idea is for you. I have done this floral wall hanging twice now (once with my wedding bouquet and once with flowers I found outside), and I get lots of compliments on both! And for the "wow" factor you achieve, it sure doesn't take a lot of hands-on time or resources, and you can get the job done in 3 easy steps.
1. Hang dry flowers
Once dried, flowers become brittle, so it's important to have a vision for your floral wall hanging before you hang dry your flowers. For one floral wall hanging, I simply separated each type of flower into its own grouping. For the second floral wall hanging, I separated the entire bouquet into three groupings so each group had every flower type. After you've got your flower groupings, strip all the excess foliage (leaves) from the stems and cut the stems to the desired length. Once the stems are cut, quickly tie the flower groupings together with twine, string, or a rubberband, and take them to a cool, dark area of your home (the basement works well). If you wait too long after cutting the stems before moving them to a dark place, the flowers tend to loose some of their original color due to sun exposure and heat. Hanging the flowers upside-down to dry is important. If they were to dry upright or on a surface, they would bend over or loose their shape. (Tip: tie the floral groupings to a ceiling hook, an unused ceiling fan, or a hanger for hang drying.) Allow the flowers to hang until dry (mine took about about 2 weeks). Once they are dry, spritz the floral groupings with hairspray to help them stay true to form and to provide a thin layer of protection.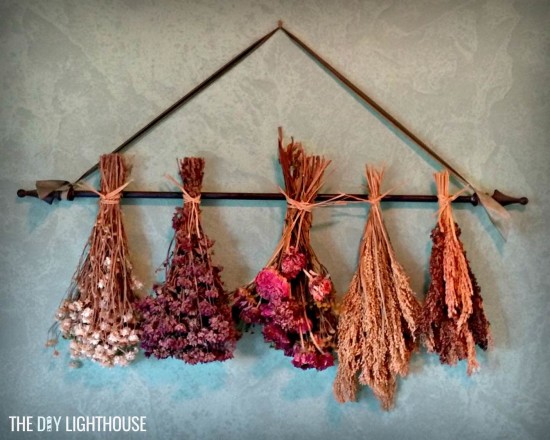 2. Attach flower groupings to a rod
Find a rod that will hold as the attachment point for all of your flower groupings. Don't have a rod? No biggie! See how to make one your own using our image tutorial below. Place your rod in front of you and the flower groupings on top. Space them across the rod to achieve your desired look. By now, the floral groupings are delicate, so, luckily for us, they already have been bound together during step one. All you'll need to do now is, using a piece of twine or string, secure each grouping by crisscrossing the twine over and under the rod on each side of the flower grouping and crisscrossing in the front and back of the grouping. Do this until the flower grouping is fixed tightly to the rod, and then fasten the twine with a double knot. Using the crisscross method will actually allow you to side each grouping along the rod to its desired location.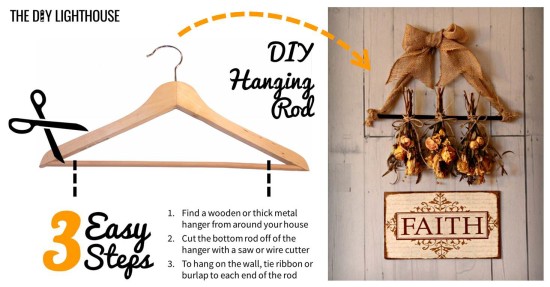 3. Mount floral wall hanging
This step is quite simple. Tie one long piece of ribbon or burlap to both ends of your rod. The middle of your ribbon or burlap then rests on the nail or nail hook on your wall (when pounding the nail into the wall, be sure to account for how low your floral wall hanging with hang). Depending on the desired look, at this point you can either cover up the nail or nail hook with a bow or leave as is.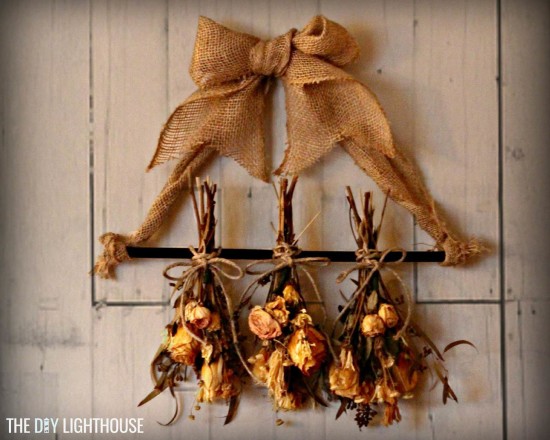 Now you have a beautiful way to display a sentimental floral arrangement or simply a floral "wow" factor for your wall. Let us know what flowers you choose to incorporate and how your DIY floral wall hanging turns out by commenting below.
To achieve a more vintage look, combine this floral wall hanging idea with our DIY Old Page Wall step-by-step tutorial (here). And if you're experiencing floral fever, check out our post on how to make an inexpensive DIY wedding bouquet in 5 easy steps (here).