Do you need to transform your wall? Look at your wall. If she's blankly staring back at you, then you two may need to have a candid conversation about a makeover. She can really be a thing of beauty if you just give her a new look. Below are 22 ways to transform your wall. There are ideas for everyone and every style so take a look, pick your favorite, and give your wall the transformation she deserves! And she'll repay you a thousand fold by giving you a room you won't want to leave.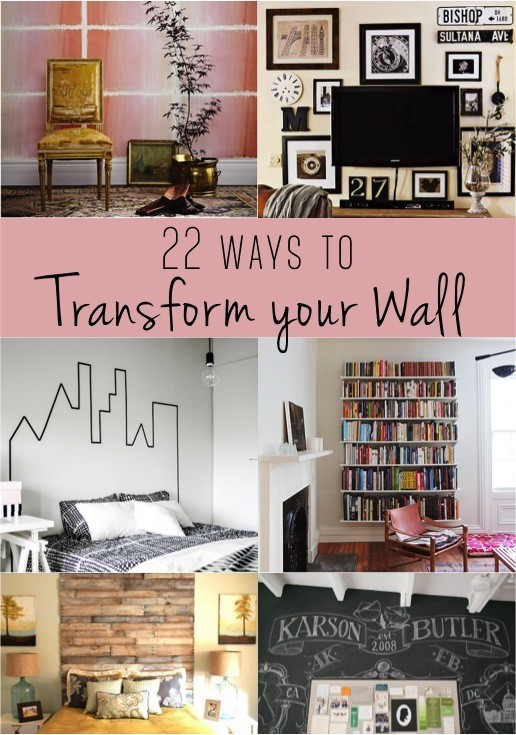 22 Wall Makeover Ideas
1. Honeycomb Hexagon Wall
Vintage Revivals has a detailed tutorial of this fun DIY wall. This wall idea is a great way to bring in multiple colors to the same room. If you want a dramatic statement wall this may be the one for you!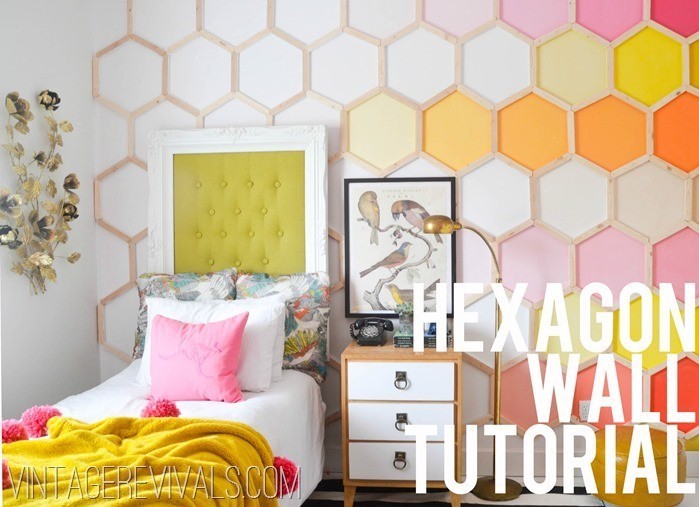 2. Bookcase Wall
Just a few inexpensive bookcases can turn a blank wall into a focal point. Not only can you get a classy look, but it will add some practical storage space. Centsational Goal has great tips for installing your own easy DIY bookcase wall.

3. Textured Plywood Wall
If you want a sophisticated, dramatic look, this may be just the thing. This black plywood wall is a classy way to create some texture and depth. Click here to see more of this room on House & Home.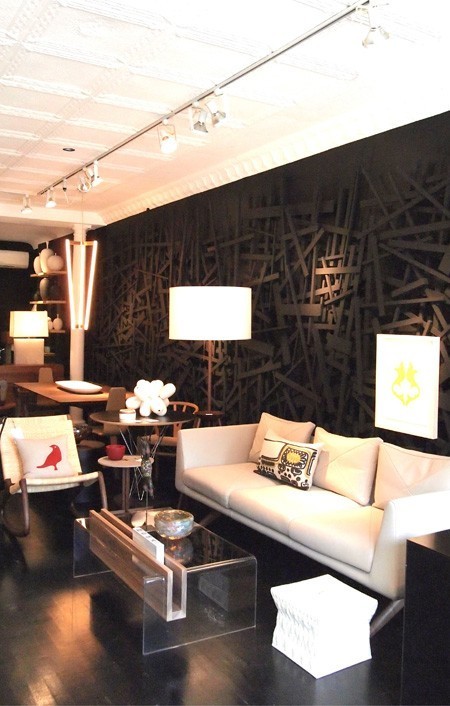 4. Moss Graffiti
If you've got a textured wall (especially an outside one) that needs sprucing up, you have got to check out DIY Ready's post on how to make your own moss graffiti wall. This is a great way to add some life to a boring space. (Pun intended!)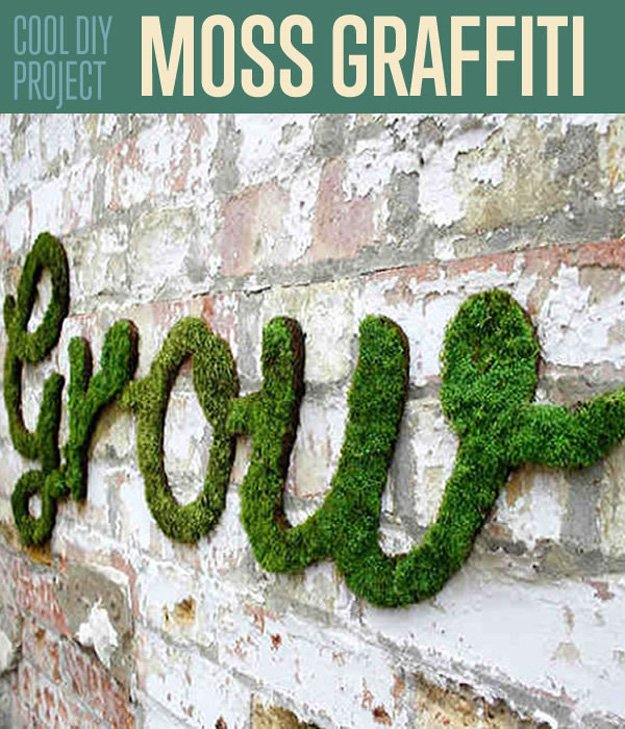 5. Painted Pattern Wall
If you're too afraid to make any huge changes to your space, try painting it! Paint is very forgiving and easy to undo. (You just paint it back if you don't like it!) Give your wall some detail with a painted pattern. Click here for a tutorial on how to stencil a wall with a pattern.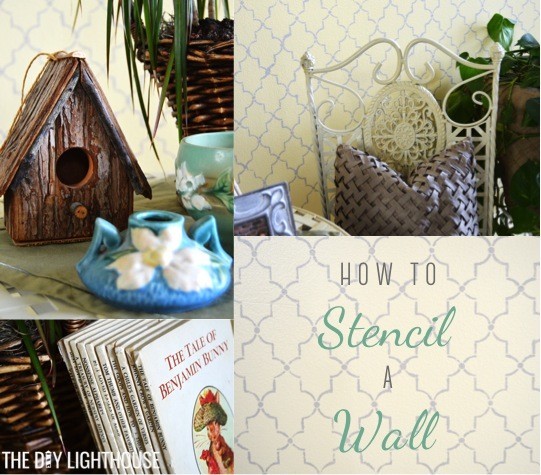 6. Handwriting Wall
If you're ready for something different, try making your own DIY handwritten statement wall. Elsie from A Beautiful Mess will walk you through how she made her beautiful wall. Click here to check out her guide.
7. Wood Pallets Wall
Add some texture with a wood pallet wall. These walls are all over Pinterest for a good reason. They are relatively easy to install and make quite a statement. The Rooster And The Hen made a wood pallet headboard and show how to install these pallets the easy way. This concept can easily be applied to a full wall. Click here for their easy step-by-step instructions.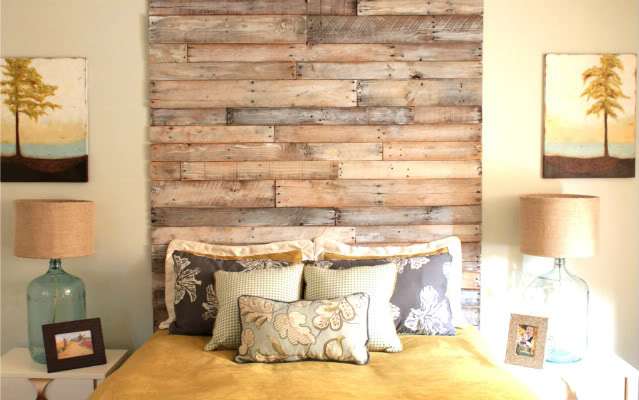 8. 3D Hexagon Wall
Give your wall some dimension. Nothing screams "coolest person on the block" like this 3D hexagon wall art. Actually originally made as a wedding backdrop, this wall display is a doable DIY for your wall. Head on over to A Practical Wedding for a detailed how-to.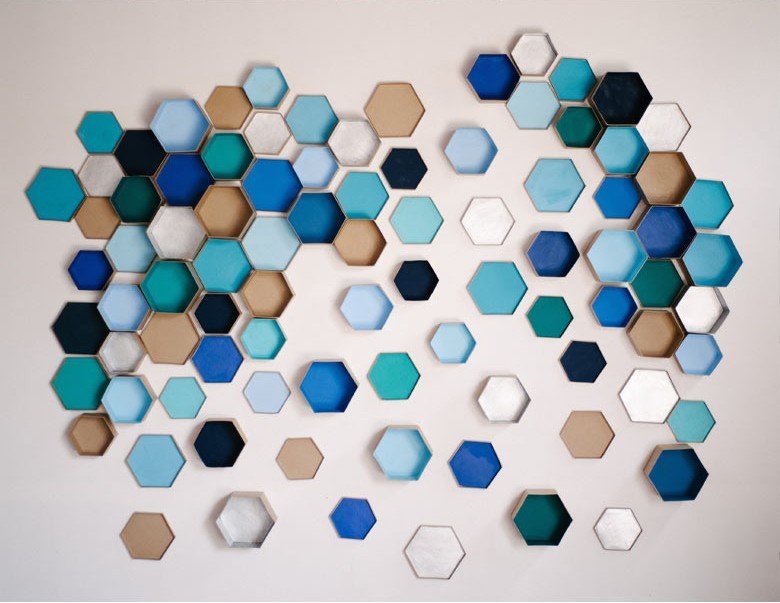 9. Old Page Wall
This is a great way to add some vintage, shabby chic character to a room. Whether you're putting up old music pages, book pages, newspaper, or something different, click here for our tutorial on how to make your own papered wall.

10. Chalkboard Wall
Chalkboard walls not only add a much needed statement to a boring wall, but it also makes your wall interactive. Inspired By This featured the office of Amber and Emily of Karson Butler Events. You can see more of their fun chalkboard office walls by clicking here.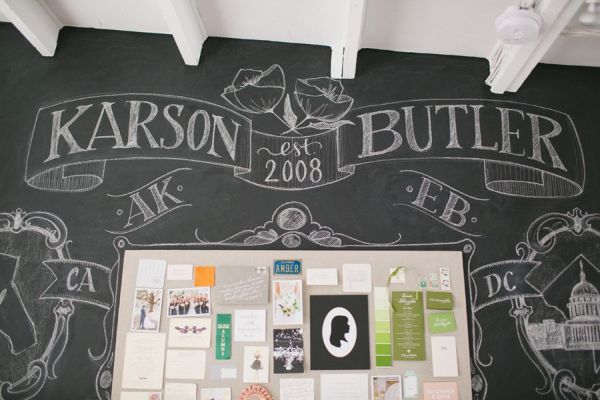 11. Polka Dot Wall
Dot walls allow you to keep your original wall color while adding some fun at the same time. Claire from Fellow Fellow will walk you through how to make your own DIY dot wall.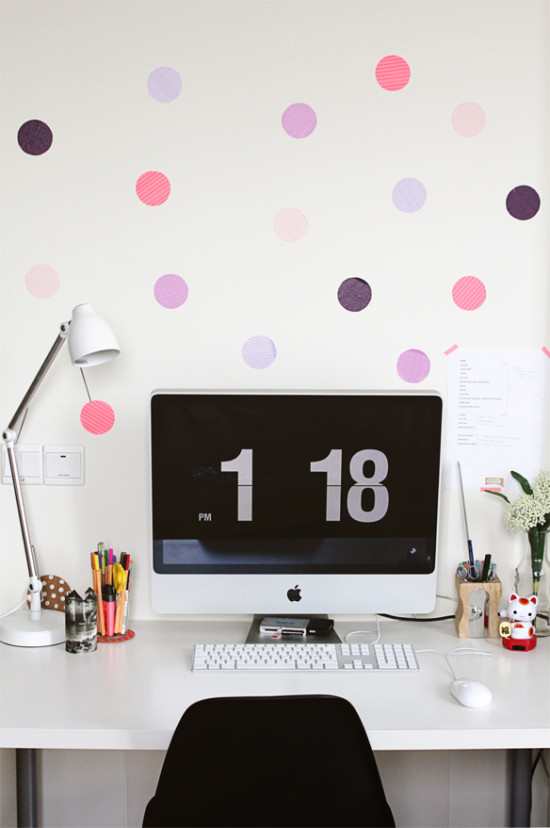 12. Floating Bookcase Wall
SF Girl By Bay has a gorgeous example of these minimalist floating bookshelves. Practical and visually interesting, this is a great balance between function and form. Tip: To make this wall even more dramatic, group your books by their color.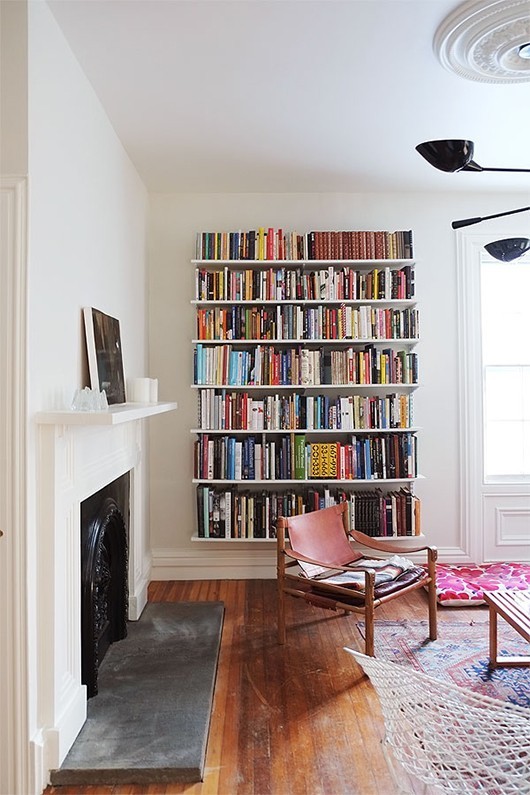 13. Skyline Wall
Renters–this is a great option for you! No paint, nails, or hassle required. Just get some painter's tape and create a city skyline on your wall. Click here for this neat how-to by Interieur Design.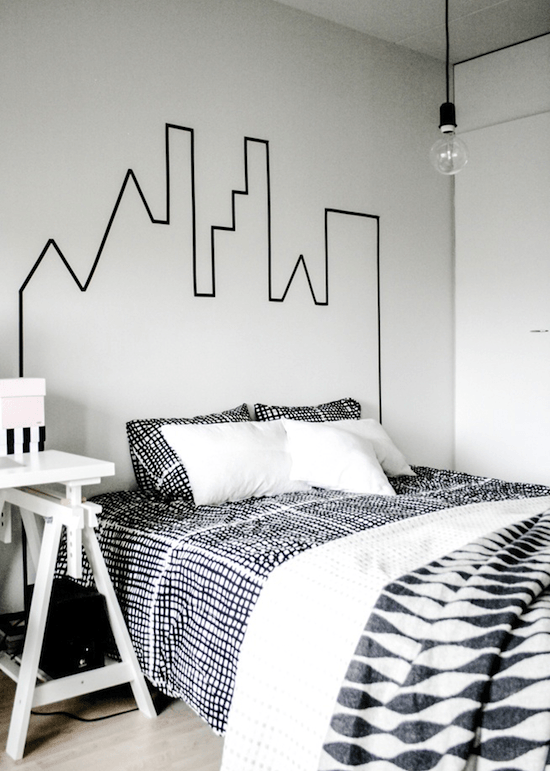 14. Map Wall
A large map could be just what your blank wall needs! This is a great option for renters who can't paint and need something noninvasive. This beautiful look comes from DIY Crafty Projects.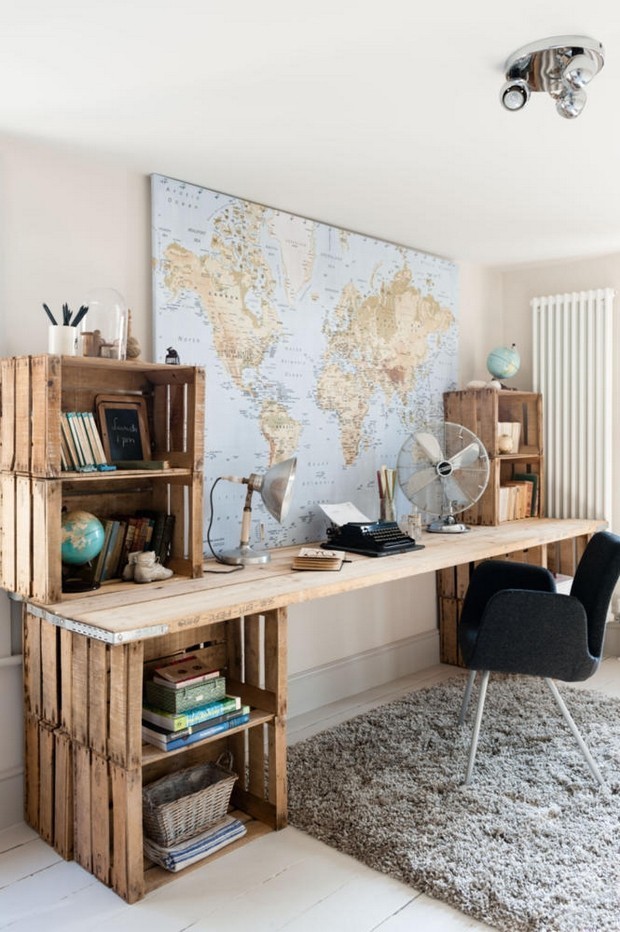 15. Picture Gallery Wall
If you need a conversation wall, a picture gallery wall is the way to go! Tid Bits And Twine not only walks you through their gallery wall transformation, but they share 10 tips for creating your own gallery wall. Like shown below, you can add clocks and other interesting pieces to the display.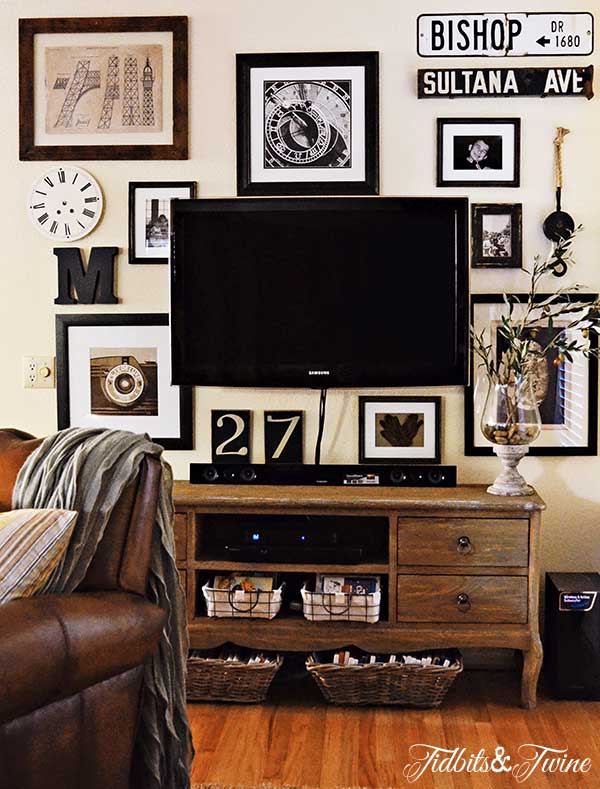 16. Peg Board Wall
Practical and pretty, a peg board wall can be the best of both worlds. The peg boards featured on Kreisdesign really are a great example of this. A peg board wall can be an easy DIY project that is clean-looking and very versatile.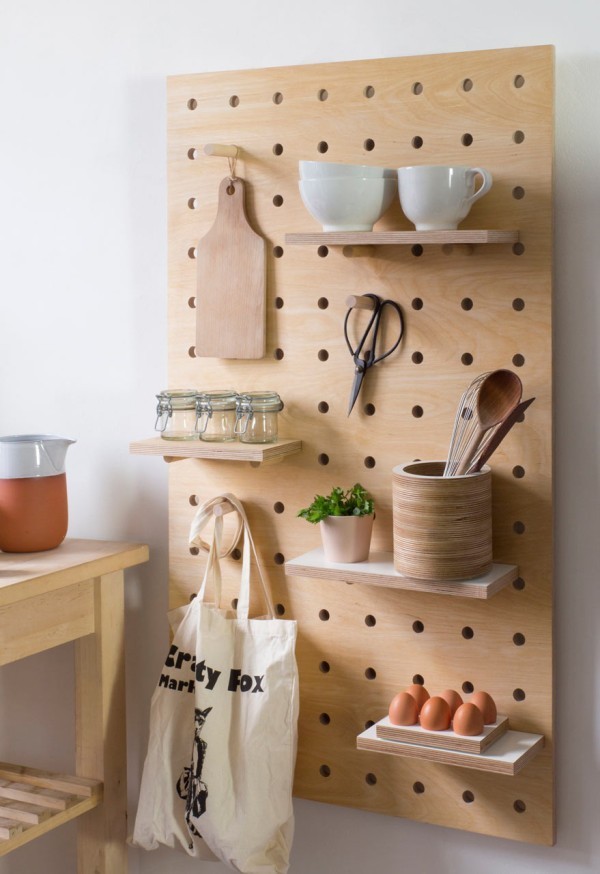 17. Rug Hanging Wall
It's no wonder there are a bunch of rug wall hangings floating around Pinterest these days. . . It can be cheap, easy, and fit any style. Just pick a rug you love and hang it on your wall. Homestead Seattle staged a beautiful living room where they use a rug on the wall for a dramatic visual.
18. Faux Brick Wall
If you're ready to roll up your sleeves and tackle a DIY project, then look into building a charming brick wall. This beautiful, rustic looking brick wall by From My Front Porch To Yours is actually faux brick! Head on over to their website for detailed instructions and pictures on creating this masterpiece.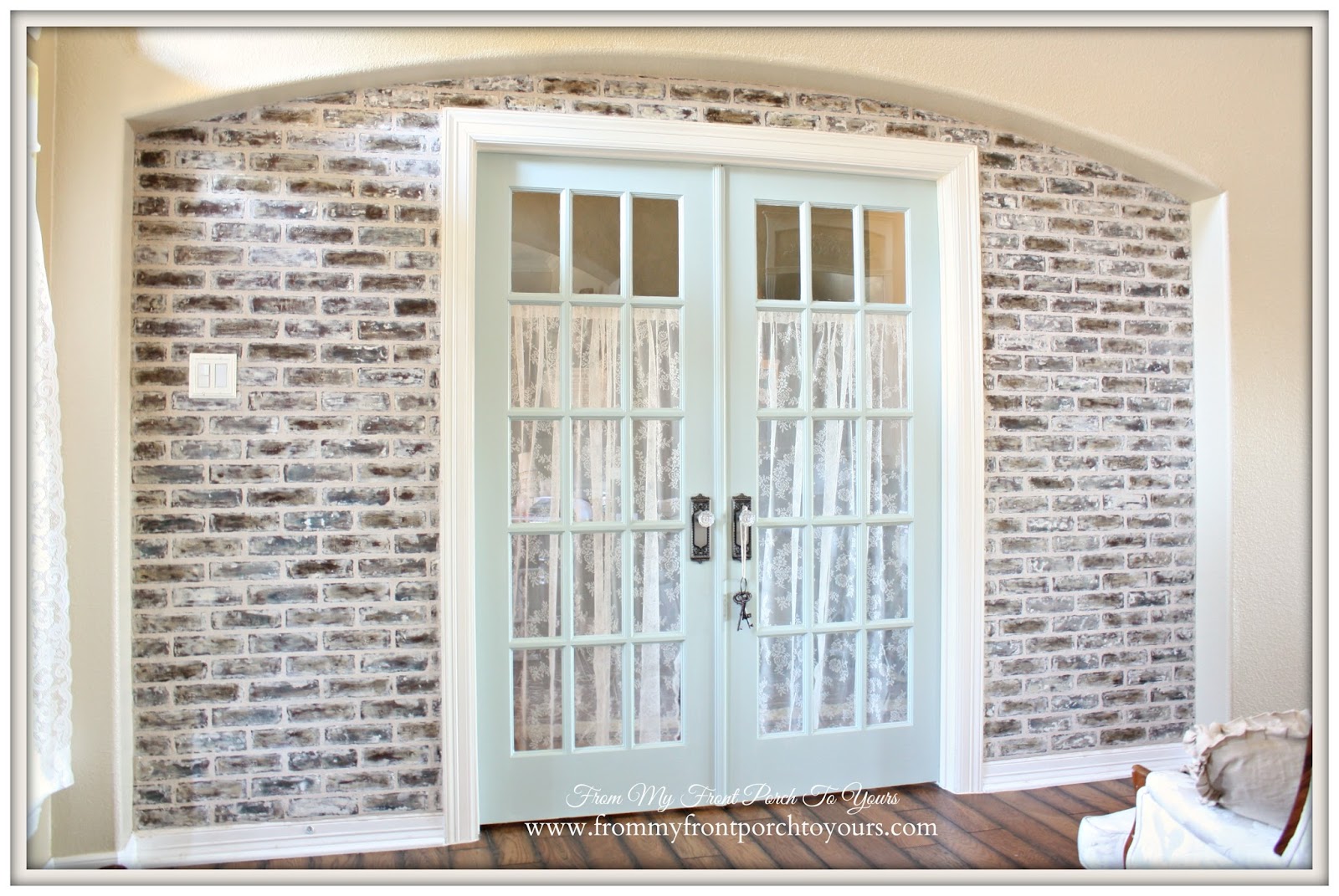 19. Curtain Wall
Give some soft texture to your wall with a hanging curtain. On Instagram, Modern Cottage shared a lovely example of this type of statement wall. Their forte is unique, vintage furniture and decor. Like Modern Cottage did, you can certainly pull off turning boring into modern chic.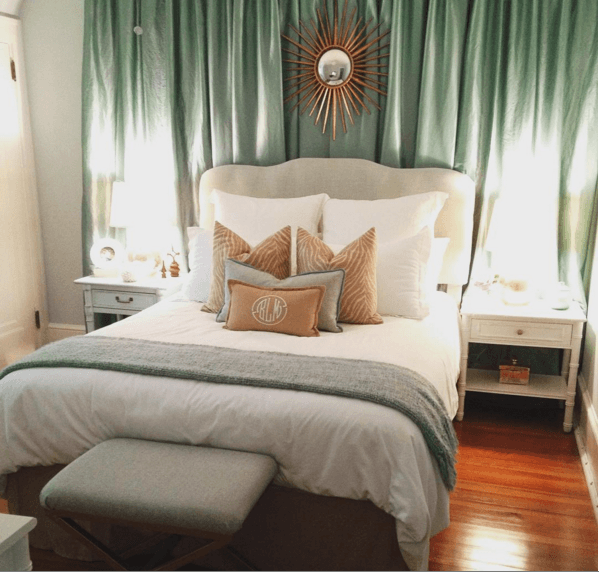 20. Gift Wrapping Wallpaper Wall
What?! That's right. House & Home uses gift wrap as their wallpaper. Even if you're on a budget, there is no excuse why you can't transform your wall. For the price of wrapping paper and some tape, you can have a beautiful statement wall. Click here for a tutorial on how to make your own.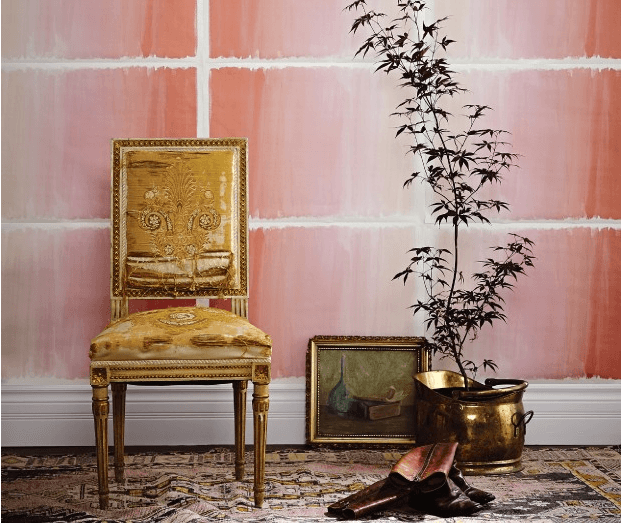 21. Quote Wall
Looking for a conversation piece for your wall? This wall quote from Colton's Place on Etsy is an excellent example of how putting up a quote can make a bold statement without breaking the bank or spending much time and effort.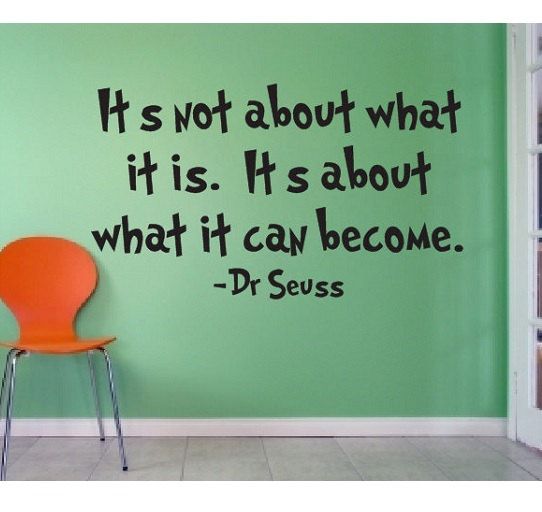 22. Metallic Marble Wallpaper Wall
This look by Calico Wallpaper is trending right now. Whether you want this metallic marble wallpaper look or something completely different, wallpaper can be a easy solution to transforming a boring wall into something you'll invite your friends over to see.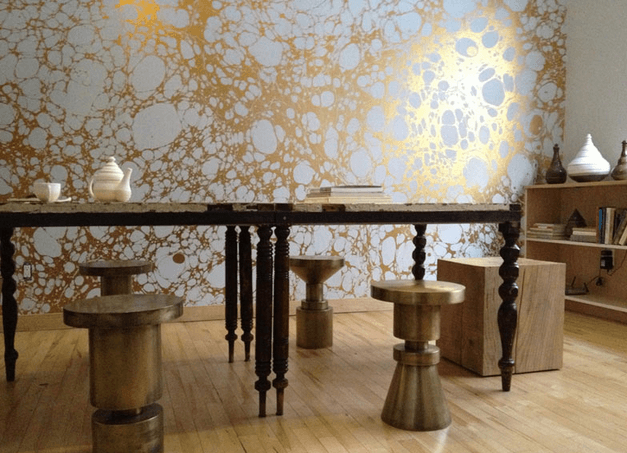 We hope one of these DIY walls spoke to you and your style. Pick one of these statement walls and give your yawn-of-a-wall the makeover she deserves! Share other fun wall makeover ideas with us by posting in the comment section below.