The more the merrier, right? Only if it doesn't break the bank! We all know that a big part of feeding a large group on a budget is serving budget-friendly food; so, below are 11 ideas for cheap meals to feed a large group. If you have a menu to plan for a lot of people, definitely check out our post How to Feed a Large Group on a Budget by clicking here. That post will give you tips on ways to cut costs when feeding the masses.
**Pssst! If you are looking for how to eat well on a budget every day, Good and Cheap: Eat Well on $4/Day is a great cookbook with healthful and delicious recipes that will help you eat well on a tight budget. The money you will save is well worth the small purchase price!**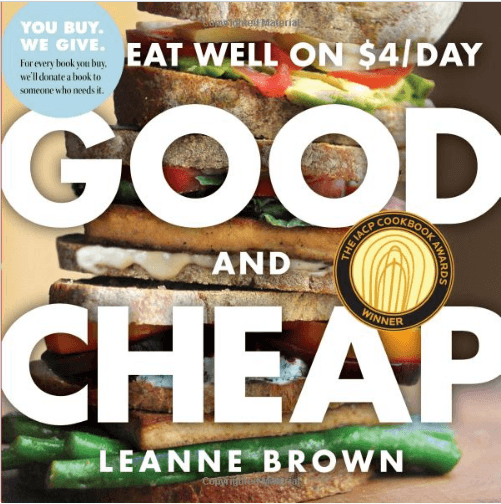 (This page contains affiliate links that we may be compensated for. Your clicks and purchases help support The DIY Lighthouse at no extra charge to you. We only put links to products we love and would recommend anyway.)
Now without further ado, below are our 11 cheap (and easy!) meal ideas for feeding large groups on a budget!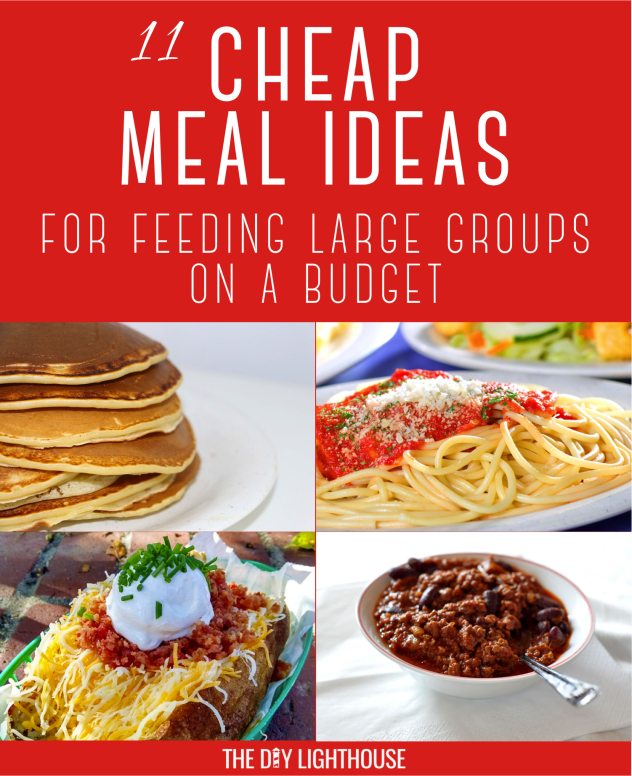 –Chili bowl image from wikipedia with license CC by-SA 2.0—
When you have to feed a large group cheaply, your main objective is to fill stomachs quickly with inexpensive foods. You will notice that the meals below have filling but inexpensive main dishes. This is key to keeping it cheap. Leave the more expensive foods (like meat and fruit) to a side dish, or, better yet, incorporated into an otherwise cheap side dish or used as a topping or garnish.
Cheap Meals #1: Pancake Breakfast
Main: pancakes // Sides: hash browns, scrambled eggs, orange slices
Even if you're not feeding your group at breakfast time, most people love breakfast at anytime of day! Breakfast-for-dinner is fun and easy on the budget.
Tip: If you want to have a meat with this meal, put ham chunks or bacon bits into your scrambled eggs. And orange slices is just an example–use a fruit that is in season as it will be cheaper!
Cheap Meals #2: Taco Salad Bar
Main: taco salad
This meal is great because sides are unnecessary! Serve your taco salad buffet style. Budget-friendly Tip: Set up your toppings cheapest to most expensive so people fill up their bowls on the inexpensive stuff first. For example, you can set it up in this order: chopped lettuce, black beans, crushed up tortilla chips, salsa, olives, tomatoes, ground beef, cheese, sour cream.
Cheap Meals #
3: Spaghetti
Main: pasta with spaghetti sauce // Sides: French bread, green salad
Serve the spaghetti sauce with or without ground beef depending on your budget. This also pertains to any cheese you'd like to serve with the main dish.
Cheap Meals #
4: Chili
Main: chili // Sides: dinner rolls or cornbread, green salad
If you go with cornbread, have it pre-cut into pieces so people hopefully don't take more than you've planned for. Tip: Serve your chili with sour cream and shredded cheddar cheese, but use small serving spoons so people don't go overboard!
Cheap Meals #
5: Baked Potatoes
Main: baked potatoes with toppings // Sides: jello salad, green salad
This is a budget-friendly meal because you can adjust your toppings depending on how much and what you can afford. For example, forgo the bacon bits if they are too expensive and serve another topping instead.
Cheap Meals #
6: Hot Dog BBQ
Main: hot dogs // Sides: corn on the cob, potato salad or potato chips, green salad
Tip: This is a great meal to ask people to help bring the sides! Delegating will help you focus your attention and dollars.
Cheap Meals #
7: French Toast Breakfast
Main: French toast // Sides: hash browns, scrambled eggs, orange slices
See "Pancake Breakfast" for some tips.
Cheap Meals #
8: Hawaiian Haystacks
Main: Hawaiian haystacks
Like the taco salad bar, Hawaiian haystacks are great because you don't really need to serve any sides with it. There are so many toppings that people can choose to put on their Hawaiian haystacks, that sides become unnecessary. Also like the taco bar, try to order your foods with less expensive items towards the beginning of the buffet line. For example, you can use this order: rice, gravy, peas, chow mein noodles, tomatoes, shredded coconut, pineapple chunks, shredded cheddar cheese, and peanuts/slivered almonds.
Cheap Meals #
9: Enchilada Casserole
Main: enchilada casserole // Sides: tortilla chips and salsa, green salad
I love Mexican food because it is usually cheap, easy, and delicious. Enchiladas are no exception. An enchilada casserole is filling because of the tortillas and beans, but cheap. . . especially if you use a recipe that is light on the meat. This meal is also budget-friendly because you can alter your toppings based on what you can afford. Don't have the money for sour cream? No problem! Just forgo the sour cream because the casserole will be fine without it.
Cheap Meals #
10: Chicken Fried Rice
Main: fried rice // Sides: green salad, French bread or dinner rolls
Rice is a carb which means it's filling! By having your main dish and one of your side dishes as a carb, you're able to fill those stomachs without emptying your wallet.
Cheap Meals #
11: Mashed Potatoes & Gravy
Main: mashed potatoes and gravy // Sides: dinner rolls, jello salad, green salad
Meat and potatoes is a classic dinner combo, but, if you are on a tight budget, then don't serve the meat. This meal will still be sure to please the crowd, and the potatoes will fill your guests right up.
Hopefully we've given you a meal idea that you and your wallet can get excited about! If you have any go-to cheap menu ideas please share in the comments below!
Don't forget to check out our post on 6 tips for How to Feed a Large Group on a Budget by clicking here.