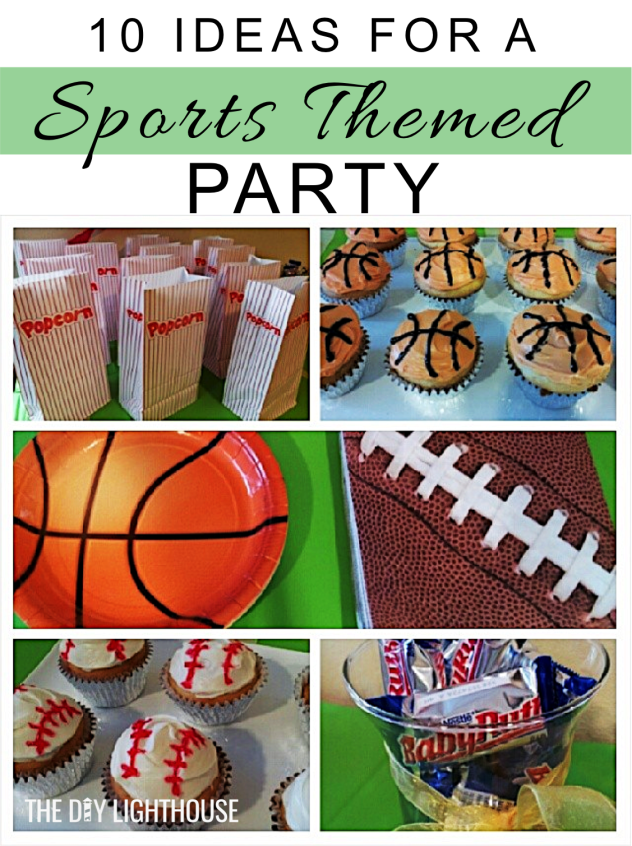 Looking for some inspiration for a sports themed party? Below are ten ideas:
Provide classic looking popcorn bags with popcorn, cracker jacks, roasted peanuts, or other sports stadium-themed snacks
Put Baby Ruth candy bars in a glass jar or bowl on the food table
Make baseball, basketball, or soccer ball cupcakes
Use paper plates, napkins, and cups to fit your theme (check the dollar store or Walmart)
Serve hot dogs in paper hot dog holders (check the dollar store or Walmart)
If you want some healthy food options go with orange smiles, grapes, apple slices, banana halves, and other "soccer mom" go-to's
For drinks provide either Capri Sun, Gatorade, or Coke/Pepsi products
Scatter Starburst candies on the serving table or eating tables with printouts or sports cards of different sports stars (like Michael Jordan, Tiger Woods, Pele, etc.)
Play a sports trivia game about sports players, regulations, field dimensions, etc. You can think up your own 10-15 questions, print out a paper for each of your guests to fill out, and whoever gets the most questions right gets a prize
For background music, play "Space Jam," "Take Me Out to the Ballgame," "Glory Days," "I Believe I Can Fly," "Centerfield," "All Kinds of Time," "Eye of the Tiger," and other classic sports songs
Hopefully this list helps you get some ideas for your own sports themed party. Please share any ideas you have in the comments below!