Meet the Captains:
Come Aboard
Ahoy there! Thank you for coming aboard The DIY Lighthouse.  We are Amber and Aubri, your captains, and we are embarking on a "do-it-yourself" voyage. Though we're 1700 miles apart, we are as close as they come. . . . In fact, we are twins and best friends. And we're glad you've joined us on our DIY voyage as we help you navigate your creativity!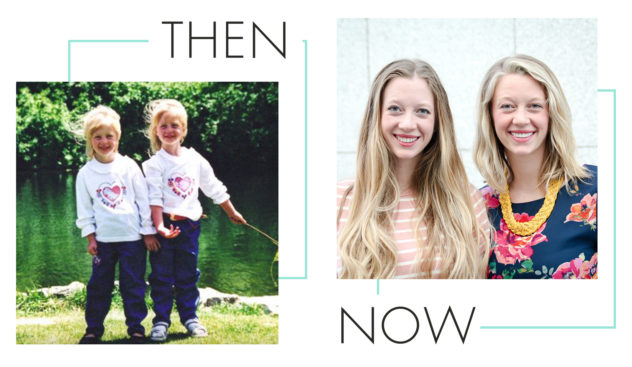 Top
10

Twin Questions – Answered.
1.
Can you read each other's mind?
No. Well…kind of. We often know what the other person is thinking. If you spend a lot of time with any one person, you naturally begin to be on the same "wavelength," and we've spent tons of time together.
2.
Who's smarter?
Uh… really? Luckily, growing up we took turns getting better test scores and grades. We are both smarterer. (Haha.)
3. How do you tell each other apart?
Well… I think to myself, if I'm not Amber, then I must be Aubri. (And vice versa.)  Haha. For reals though, Amber parts her hair on her left; Aubri parts her hair in the middle or on her right. Amber's face is more oval shaped; Aubri's face is more heart shaped. Good luck!
4. Are you twins? (closely followed by) Are you identical?
Yes. Yes.
5. Who was born first?
Aubri. At 8 PM on our birthday, Aubri always celebrates excessively for 13 mins. Once we turn 50 though, Amber will be the one celebrating.
6. Do you like being twins?
All the pros definitely outweigh the cons. It's hard when you're always being compared to someone. But come on, who wouldn't want to have a sleepover with their best friend every night growing up? 'Nuff said.
7. Have you ever switched places?
Of course! Once, Amber swam breaststroke for Aubri at a swim meet. We also switched places in class. To trump it all, we both played Cat in the Hat in our school musical "Seussical." One of us would run off stage left and the other would enter stage right mere seconds later. The kids thought it was magic!
8. Do you share the same clothes?
Wish we still could! Too bad we live 1700 miles apart now. Double the shoes, shirts, pants, dresses, and accessories. We even shared most of our clothes in college! It was tricky when Aubri got married and moved out, because we finally had to take turns picking which clothes went into the "Amber pile" and which went into the "Aubri pile."
9. Do your husbands get you mixed up?
No, but we tricked Aubri's parents-in-law once. It was perfect!
10. Do you like the same things?
Yes, but luckily never crushed on the same boys. Feel free to read our bios (below) to learn more about us.
Captain's Bios
Ahoy, I'm Amber!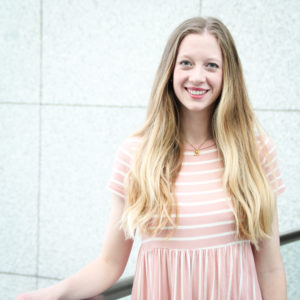 Lives in: Seattle, WA
Described in 3 words: organized, adventurous, thankful
Favorite DIY project to date: Moist Banana Muffins Recipe (or any recipe because food is the best)
Least favorite household duty: definitely dusting
Favorite holiday: 4th of July (sun, fireworks, bbq)
3 fun facts: I've bicycled across America, I have a little dog named Moose, and I used to be a professional organizer
Ahoy, I'm Aubri!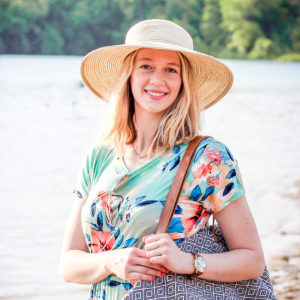 Lives in: Rochester, MN (Yep, that's Rochester, Minnesota)
Described in 3 words: optimistic, passionate, friendly
Favorite DIY project to date: redesigning my mom's guest bedroom
Least favorite household duty: cleaning the floors or tub
Favorite holiday: Christmas (giving, family, food)
3 fun facts: I have two beautiful girls, I have type 1 diabetes, and I am a certified personal trainer